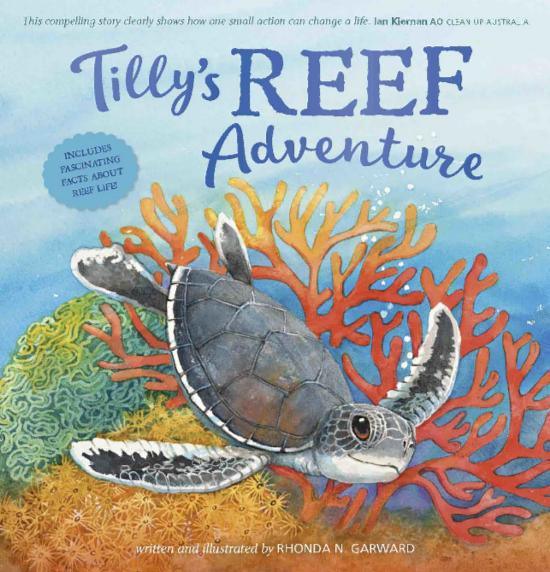 Rhonda N. Garward, Tilly's Reef Adventure,  National Library of Australia Publishing,  1 Nov 2017,  36pp.,  $19.99 (pbk),  ISBN 9780642279088
This is the heartwarming story of Tilly, a baby turtle who hatches out of her sandy nest and scrambles for safety into the ocean. Here she makes friends with a seahorse who introduces her to the other creatures who live on the reef. But there are dangers lurking, not least those that are man-made. Mistaking a plastic bag for a jellyfish, Tilly ends up trapped and washed up on the shore amongst the rubbish. Her only hope is to be rescued by a group of children who are cleaning up the beach.
This book is aesthetically stunning. The richly coloured illustrations are a delight and perfectly complement the narrative. The sturdy glossy pages include a flap on each double page spread which gives a sense of suspense. At the back there are facts about the Great Barrier Reef and its creatures, including a brief history, threats and how you can help section. I love that there is a ready reference to the Creatures of the Reef. This clever narrative non-fiction encourages empathy while educating the reader, delivering an important environmental message and offering hope for the future. It is endorsed by the chairman of Clean Up Australia, Ian Kiernan AO. A must for libraries, I highly recommend it to primary school readers, their parents and teachers.  
Find background information on creating the book on the National Library of Australia's website.
Reviewed by Sharon Seymour