Kate Hendrick, Fish Out of Water, Text Publishing, February 2022, 288 pp., RRP $19.99 (pbk), ISBN 9781922458346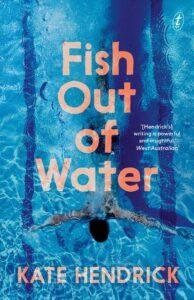 Finn, aptly named, is a champion swimmer who on one occasion, falters before a race and loses. He feels compelled to reassess his priorities but eventually goes back to swimming training. He meets Loki, a laid-back boy who is also a champion swimmer. He also engages with a studious girl, Aaliyah. In doing so, he comes to the realisation that everyone has things in their lives that are not necessarily obvious to an outsider. But Finn has the biggest secret of all. His father disappeared some years ago and no-one seems to know what happened. Loki and Aaliyah both urge Finn to look for him. The final revelation will come as a shock to the reader as it did to those closest to Finn.
The characterisation in the book is strong and there is a gradual build-up of intrigue and suspense. Finn's mother has a new boyfriend whom Finn doesn't like but who is revealed as a true friend to both the boy and his mother. Connie, Finn's older sister, reveals things to him of which he was completely unaware. Finn also realises that the persona people display in private may not be the one they present to the public. He himself does not reveal his past as a troubled little boy but parades a bravado that belies what lies underneath. His family has been plagued by domestic violence, both physical and coercive control and his father, whose potential Olympic career was thwarted by injury, tries to recreate that glory vicariously through Finn.  His jovial bonhomie to outsiders is not what his family experiences. The book also raises questions of friendship, relationships, sexuality, loyalty, and ambition.
This is a complex and challenging book that may repay discussion after it is finished.
Reviewed by Margot Hillel