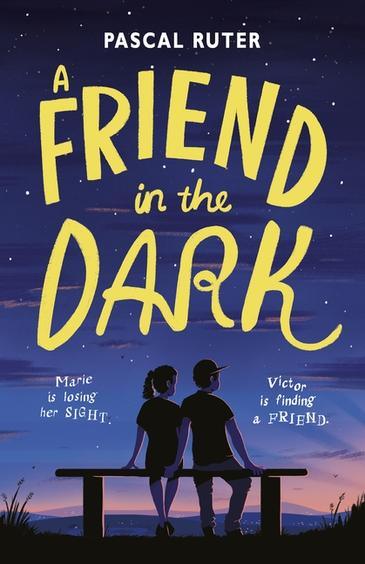 Pascal Ruter,  Emma Mandley (translator),  A Friend in the Dark, Walker Books Australia, 1 April 2017,  336pp.,  $14.99 (pbk),  ISBN 9781406372601
First published in French in 2012, Walker Books have produced a quality English translation of this title. Our narrator is Victor, an unusual kid who sees and interprets things differently to other people, gets into trouble without really meaning to, and is a low achiever at school. He tries hard and wants to make his father proud, but doesn't always try in the right direction. His best friend Haisam is a genius and chess enthusiast who understands Victor probably better than he understands himself. Everything changes for Victor when Marie, the smartest girl in the class, befriends him and brings him in to her secret – she is going blind. It's a degenerative disease without a cure, and Marie is losing her sight a lot faster than anticipated. She is determined to audition for an elite music school and not be sent to a school for the blind, so she asks Victor to help her cover up her blindness. It's a stressful time for both of them, but they learn a lot about friendship, trust and love.
This is a really enjoyable book. Victor is such an unusual protagonist, but utterly engaging. The translator has done a really excellent job to keep the text so light and unaffected. There are many shades of light and dark in the story, a gentle humour throughout, and a feeling of optimism against the odds. Highly recommended for high school and public libraries.
Reviewed by Rebecca Kemble