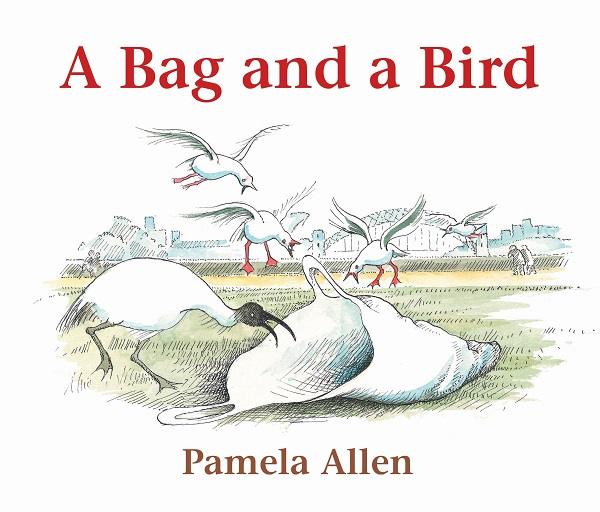 Pamela Allen, A Bag and a Bird, Viking (Penguin Random House Australia), 28 August 2017, 32pp., $24.99 (hbk) ISBN 9780143783909
My kids love picnics, so we immediately related to the Mum and son in this story as they made sandwiches, packed fruit and water, grabbed their hats and set off for a picnic in the park. The pair live in Kirribili, on Sydney Harbour (as the author Pamela Allen once did) so the illustrations showcase iconic Australian landmarks along the walk to the Botanic Gardens. They cross the Harbour Bridge, walk through busy Circular Quay and pass the Sydney Opera House.
At the gardens, they pull out their sandwiches, and, as often happens when eating outdoors, the pair are joined by a flock of birds, eager to feed on any scraps. That's when the excitement starts. An empty plastic lunch bag is whisked away by the wind and it catches on an Ibis. The bird flies with it for a while, then is pulled into the harbour and starts to sink.
Allen uses repetition and onomatopoeia to bring the scene to life and build suspense. An unlikely hero emerges. A simple walk has become an adventure, with a lesson about conservation, about human impact on the environment and about how we can put things right. But the messages are subtle, weaved into the words and the pictures by a master storyteller.
My son, 4, and I both enjoyed this story. Like most of Allen's books, I'm sure it will be pulled out again and again. Although I expect my favourite of her stories will always be Shhh …. Little Mouse.
Reviewed by Carissa Mason