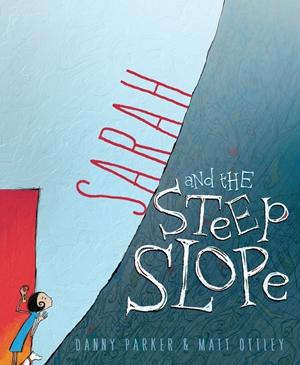 Danny Parker (text), Matt Ottley (illus.), Sarah and the Steep Slope, Little Hare/Hardie Grant Egmont, 1 August 2017, 32pp., $24.99 (hbk) ISBN 9781742974675
This is a story for anyone who has ever faced a problem they felt couldn't be overcome. One day Sarah opens her front door and sees a slope. Over the following page, there's no words – just pictures, giving the reader time to take it in. The dark, shadowy illustration show us the slope is gigantic, formidable – perhaps insurmountable. Then: (it's) "blocking out the sun and casting a shadow across the house". Even the youngest reader can see it's a big deal.
Sarah tries to get past it, but it's blocking her way, trapping her inside. She becomes timid, ignores it – then finally seeks help. Once the doctor comes and her friends visit, Sarah feels much better. With them by her side, the slope doesn't look so big anymore. It's a powerful message, simply told.
This book would be a great prompt for conversation about any issues causing angst or fear in a young person's life, or even to explain the way a grown-up may be feeling.
Sarah and the Steep Slope is the third collaboration between Perth duo Danny Parker and Matt Ottley. They published Tree in 2012 and their second book together, Parachute, was shortlisted for the Children's Book Council of Australia's 2014 Picture Book of the Year award.
Reviewed by Carissa Mason