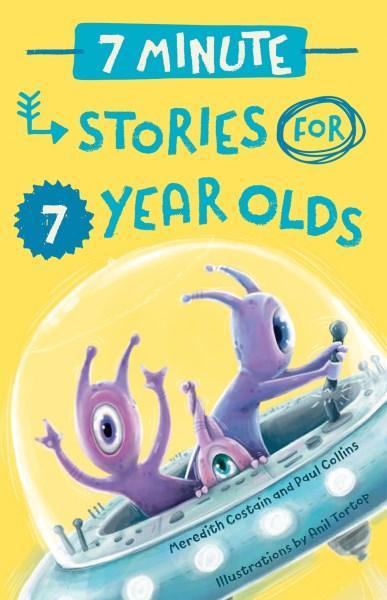 Meredith Costain and Paul Collins (text),  Anil Tortop (illus.),  7 Minute Stories for 7 Year Olds,  Scholastic Australia,  1 March 2017, 192pp.,  $14.99 (pbk),  ISBN: 9781760157005
From a zoo that gets taken over by the animals, to racing snails, to a serious case of Imaginitus, this latest collection of stories from Scholastic will appeal to a wide variety of young readers. Printed in large font with humorous illustrations placed throughout each story, 7 Minute Stories for 7 Year Olds begs to be picked up by developing readers. Themes such as sibling rivalry, family and friendships are relatable to both boys and girls.
Each of the twelve stories in 7 Minute Stories for 7 Year Olds is entertaining and self-contained, meaning readers don't have to read them in order or remember characters from the beginning of the book. Lessons are subtly weaved throughout the stories but are in no way intrusive. In 'Zapped!', Riley has to save his big sister Leah after she is sucked into her favourite video game. If only she had let him play a few times, perhaps he would know how to keep her from getting caught by an angry gorilla. And maybe little sister Ruby does have some good ideas as she proves when she scares the entire crew filming a scene at the old haunted house.
The standard paperback size makes 7 Minute Stories for 7 Year Olds feel like a grown up book in small hands, but the language, illustrations and format are firmly focused on the newest readers — a perfect solution for children who are ready to move beyond picture books. Kids under seven are immediately intrigued by the title and can't wait to see what big kids are reading which also makes this a great book to read to students in years K – 2. Overall, 7 Minute Stories for 7 Year Olds is a unique format for young readers with fun, kid-focused stories that are sure to entertain.
Reviewed by Stephanie Ward