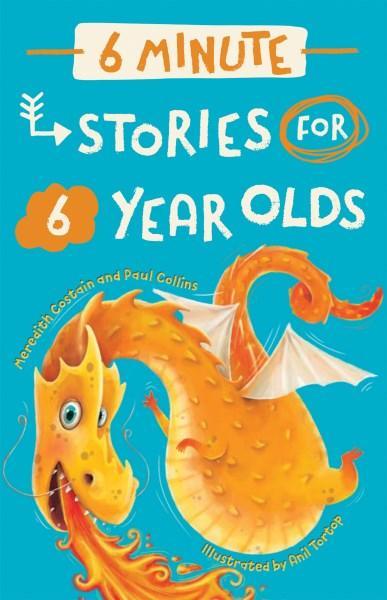 Meredith Costain and Paul Collins (text),  Anil Tortop (illus.),  6 Minute Stories for 6 Year Olds,  Scholastic Australia,  1 March 2017,  192pp.,  $14.99 (pbk),  ISBN: 9781760156992
Twelve large-print, illustrated stories, each of them about twelve pages long – perfect six year old reading fodder. Most are written from a third person point of view, with a couple in first person. There's a range of topics and genres, and a good protagonist gender mix. Animal stories include Comet, Hero of the Beach and Merlin the Crow. There's a ghost story (Ghost in the Graveyard), some magic ones including Magic Mayhem and Dragonfruit (my favourite), and the obligatory disgusting one (The Big, Bad Smell).
Illustrations break up the text although occasionally the ones ending the story are placed at the start of the next, which seems awkward. That's only a small problem, though. There should be stories in here to entertain most readers or those who enjoy being read to.
Reviewed by Pam Harvey