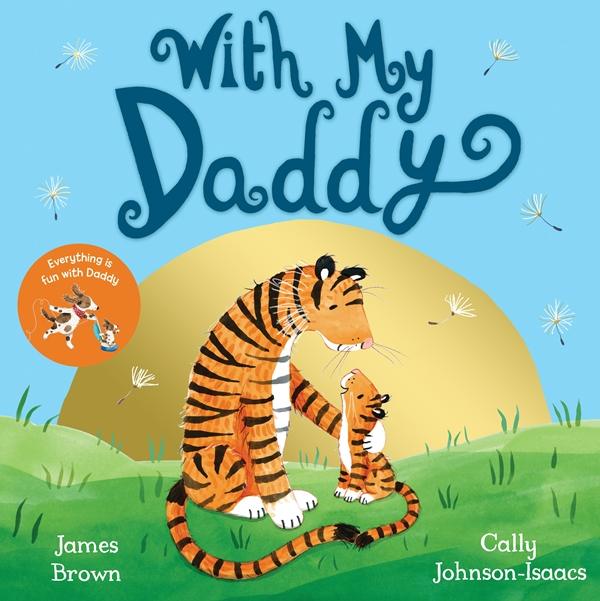 James Brown (text), Cally Johnson-Isaacs (illus.),  With My Daddy,  Macmillan Children's Books Australia, 26 April 2017,  32pp., $14.99 (pbk), ISBN 9781509834426
Told in rhyming couplets, this book celebrates the relationship between a father and child. Together, they undertake all sorts of exciting activities. Before setting out they have breakfast and pack a bag with the things they might need during the day. They visit the park and throw frisbees together. But household activities can be made fun too as they tidy and clean the house and do some cooking together. Daddy tells stories and makes bed and bath-time into tales of princesses and pirates, dragons and witches. Each page depicts the father and child as different animals, an anthropomorphic technique which allows readers to understand difference and doesn't make it appear that only a certain 'sort' of father engages with his children in these ways. It also allows the depiction of children with no specific gender, giving a further universality to the notion of the father/child relationship.
The illustrations are exuberant and lively, showing the great joy that these fathers and children have in each other's company. Daddy and child undertake tasks such as tidying up and putting away the toys – toys which, in the illustration, range from soccer balls to witch dolls. The toys also contribute to the dual narrative provided by the written and illustrated text. As the father and child climb the stairs for bath and bed at the end of a long day, they enter into a fairytale, passing a dragon, a witch and a troll and save a lost princess. All of these are actually toys which become part of the fairytale landscape,  showing how the everyday can enhance imaginary play. The child reader will enjoy finding and naming the many objects which appear on each page – objects which are appropriate to the activity being depicted, such as the toy boat in the bath and the green apple being packed into a picnic bag.
The layout is interesting and varied with double and single-page spreads, as well as pages with a number of smaller illustrations. These are used to support the written text, giving, for example, are sense of 'busy-ness' with many illustrations showing the picking up and tidying up of toys.
There is a companion volume, published slightly earlier, called With My Mummy, by the same author and illustrator, which uses a similar anthropomorphic technique. Both this, and With My Daddy, are books designed to share and could well lead to wonderful conversations about the child reader's own mother or father and the things they do together.
Reviewed by Margot Hillel