Tamsin Janu, Winston and the Wondrous Wooba Gymnastics Club, Scholastic Australia, June 2019, 247 pp., RRP $16.99 (pbk), ISBN 9781760662509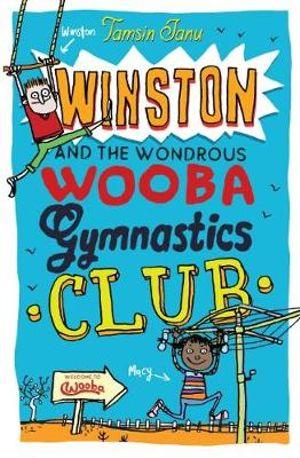 Tamsin Janu is an extraordinary prize-winning and eminently shortlisted novelist for young readers. This is her fifth novel, and she has composed it with confidence, good humour, and a canny command of what might interest the readers she is aiming to engage.
Australian country town life is at the heart of this novel, and its theme is the challenge to improvise when the going gets tough while remaining positive in the face of all difficulties. Winston and his mother Carol live in the little town of Woobawittawoo, a town where the only tourist attraction, a giant sculpture of a bread loaf, is threatening to fall over. While Winston is deeply concerned about this because his mother's gift shop business is located in the shadow of the Big Bread, he has another challenge facing him: Macy and her father, Jim, are moving in to his home, creating a trial blended family—and for Winston the new challenge of being a brother to a new sister. Macy faces her own dilemmas and challenges, for her one passionate and consuming aim in life is to become an Olympic gymnast. The town of Wooba has no gym, not even at the local school. How is Winston going to help Macy to resign herself to living in the tiny town of Wooba, and make progress towards her dream, while saving the Big Bread—and in connection with that, save the economy of the town? These are big challenges, and Winston won't be able to rise to them alone. The novel follows the ups and downs of the children as they bring adults alongside, learn lessons from life, from their friends and from the adults who support them. We the readers learn a lot about gymnastics along the way too.
This is a novel of hope for the future. In some ways it a handbook on how individuals become truly contributing members of a family, a friendship group, and a community. Long live the spirit of the Australian country town.
Recommended for readers from 8 to 14 years. Oh, and it would be a great book for adults to read aloud to their children.
Reviewed by Kevin Brophy