Ailsa Wild (text), and Aviva Reed (illustrator), Nema and the Xenos: A Story of Soil Cycles, CSIRO Publishing, August 2019, 60 pp., RRP $24.99 (hbk), ISBN 9781486312160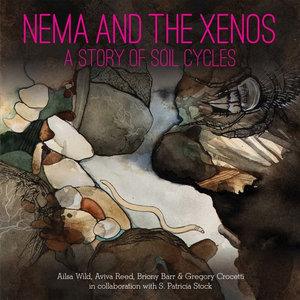 Nema and the Xenos transports the reader into a space we perhaps don't often consider as an animal habitat; that of the underground. The main characters are the nematodes; Nema, Toda, Seri and Glassa and the story follows them on their journey towards the tree's signal for 'Help'. Along the way they meet other underground creatures and upon reaching their destination carry out their life cycle.
For the most part the book maintains a fine balance between maintaining an interesting narrative and delivering factual information. Only occasionally I felt the scientific terms overly complicated and confused the story, especially considering the intended reader audience of 8-12 years. The book's text and illustrations explain in quite a bit of detail about how the nematode and it's xenos enter the grub and reproduce. Wild's text helps to create a sense of drama as the story unfolds; "The battle rages. Thousands of Xenos die, but slowly, surely, the bacteria overcome the grub's defences." I did find myself feeling a little squeamish at times but credit to the authors who don't shy away from the reality of nature and presenting it candidly to children.
Reed's illustrations play a key role in telling the story. They are detailed and accurately represent the different elements of the underground world. Magnification is used so as a reader you really get a good sense of the comparative sizes of things and experience the world through the 'eyes' of a nematode; where an earthworm tunnel is gigantic and grains of sand are mighty structures. The illustrations further magnify minute details so the reader can see things such as bacteria feeding on a root hair. The previously unknown and unseen underground world is bought to life through Reed's illustrations and is sure to ignite the imaginations and curiosity of children reading this book.
The second part of the book 'The science behind the story' is a useful addition for teachers to reference and includes much information about the components of soil, citizens of the soil, comparative sizes of creatures living in the soil and further information on nematodes. As well the publisher CSIRO has developed some very useful Teacher notes covering the learning areas of Science, English and the Arts dealt with in the book.
This is a well thought out and beautifully presented book that successfully combines an illustrated narrative to communicate complex science concepts. It would be an invaluable teaching resource for a unit on soil.
Reviewed by Julie Bertola