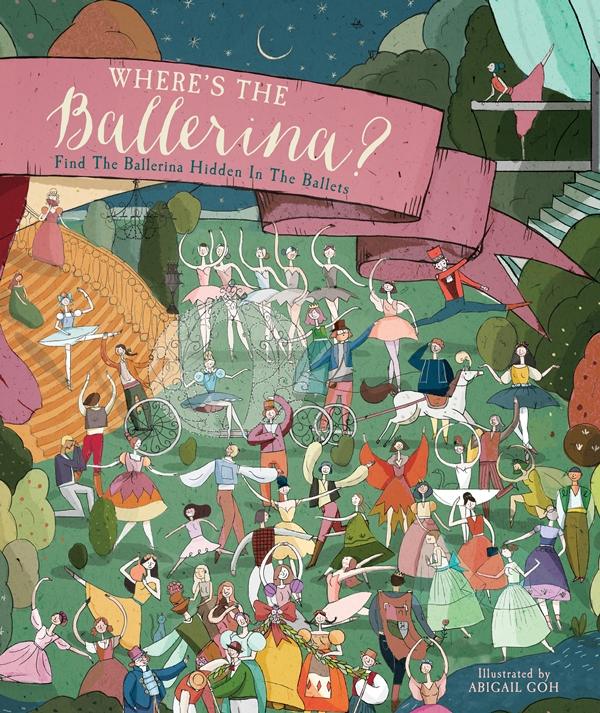 Anna Claybourne (text),  Abigail Goh (illus.),  Where's the Ballerina?,  Murdoch Books, Feb 2017,  48pp.,  $19.99 (hbk),  ISBN: 9781782404507
This attractive hardcover book introduces children to ten popular ballets, and throws in a Where's Wally?-style puzzle element for good measure.
Can you spot the beautiful ballerina pirouetting in each ballet?
(There's a peacock to find as well.)
All the best-known ballets are here, including Swan Lake, the Nutcracker and A Midsummer Night's Dream. Each ballet is given two double-page spreads. The first includes a plot summary, illustrations of the main cast characters and an illustrated narrative consisting of around 7 frames showing key scenes including the (often tragic) finale. The second spread shows a busy scene from the ballet, packed with detail in the tradition of Where's Wally?. The challenge is to find all the key characters of that ballet, as well as the pirouetting ballerina and the peacock. Like me, you may be relieved to know that solutions can be found in the back of the book!
As the Introduction says, these ballets are
"packed with romance and betrayal, magic and mystery, and excitement and celebration".
The author has done a terrific job of describing and summarising the complex plot points of these ballets to make them comprehensible to contemporary kids.
The illustrator has also done lovely work. The bevy of beautiful ballerinas, rich colour palette and shiny gold elements on the cover provide a sensual experience that evokes the elegance and splendour of live ballet, which only a hardcover print book could do justice.
At its heart, this book is an information book about ballet, for independent readers of around 8-12 years. However, the additional puzzle element succeeds in broadening the appeal to include a younger audience too.
Reviewed by Julie Murphy