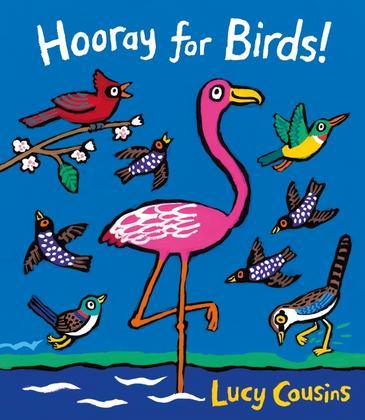 Lucy Cousins,  Hooray for Birds!,  Walker Books Australia,  1 Feb 2017,  40pp.,  $24.99 (hbk),  ISBN: 9780763692650
This is a delightful book from the creator of Maisy. It will especially appeal to bird lovers and imaginative little ones who have trouble sitting still at story-time. An initial question,
Can you imagine, just for one day, that you are a busy bird?
sets the scene for youngsters to hop up and start acting like an assortment of colourful and charismatic birds; waddling like penguins, running like ostriches and standing on one leg like a flamingo.
Strong rhythm and rhyme are well-suited to a read-aloud story circle in a classroom setting, or a public library storytime.
The illustrations are bright, bold and beautiful, in a naïve style similar to that of the Maisy books.
This fun story will delight and engage children right up to the final page when all the chicks settle into the nest for sleep. Finally!
Reviewed by Julie Murphy