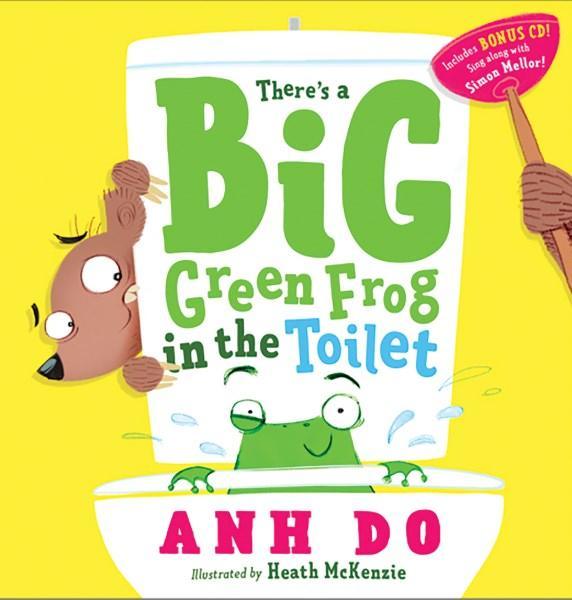 Anh Do (text), Heath McKenzie (illus.), There's a Big Green Frog in the Toilet, Scholastic Australia, Oct 2017, 32pp., $19.99 (hbk), ISBN: 9781743812495
Anh Do's cheeky humour exudes from the pages of this fun-filled book. A frog that hops into the toilet throws a household of bears into turmoil as increasingly more desperate attempts are made to remove the mischievous creature. Chaos and destruction ensue until the emergency is resolved when the youngest member of the family is no longer able to resist his need to "pee" and wets himself.
Told in the third person and using rhyme, the story moves smoothly with each new episode of the unfolding events beginning with the word "Well…" creating a sense of building disaster and giving a colloquial, folk-tale tone to the tale. The accompanying CD sung by Simon Mellor follows the text word-for-word in a jaunty Country and Western style which adds to the fun as a child can both read and sing along.
Use of repetition and changes in the size of the typeface and colour of the printed text give emphasis where needed and accentuate the humour. Heath McKenzie's illustration are lively and capture the expressions of the characters who are placed on plain backgrounds to help highlight the absurdity of the situation.
Printed on quality, gloss paper with brightly coloured illustrations and appealing to the scatological humour children love, There's a Big Green Frog in the Toilet will become a favourite with the three plus age range. Those readers who liked Do and Mellor's earlier book What do they do with all the Poo from the Animals at the Zoo? will also enjoy the humour of this latest offering.
Reviewed by John Nolan