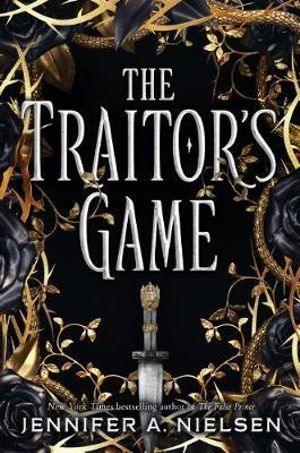 Jennifer A. Nielsen, The Traitor's Game, Scholastic Australia, July 2018, 400pp., $19.99 (pbk),  ISBN: 9781742997643
Kestra Dallisor has spent the last three years in exile, but that does not stop her from being drawn back into her father's dangerous politics.  Kidnapped by rebels on her way back to her father's court, Kestra must choose between family loyalty, her own survival, and the fate of the entire nation…
The Traitor's Game is the first book in a new series by Jennifer A. Nielsen, author of the Ascendance and The Mark of the Thief trilogies.  This story plunges the reader into a land of civil unrest, where an evil immortal named Endrick rules with an iron fist, and several different factions are fighting to reclaim the throne.  It's a highly entertaining tale of swords and sorcery, of adventure and intrigue.
The story is written in the first person, but from two different perspectives – the first is Kestra Dallisor, the young woman raised to the privileged life of the aristocracy; the second is Simon, the young man born to poverty and raised to join the revolution.  By alternating between the two, we see the same events through two very different sets of eyes, a device that works very well for Nielsen.  Even though the two main characters could not have more different backgrounds, somehow we are able to sympathise with them both, and appreciate their different motivations.  We want Kestra to succeed in finding the secret of her heritage and her destiny; just as we want Simon to succeed in his struggle to bring peace and freedom to the land of Antora and its people.
Nielsen's writing style is energetic and witty, and young readers will relate to the voices of the main characters.  Some of the internal dialogue seems like it would be a little more at home in a modern setting, but it doesn't detract  from the overall pace of the story (that might be a purely personal thing – for some reason I find it jarring when characters in period novels use modern-sounding turns of phrase, but other readers may not find it so).
There are some stronger themes and violence within The Traitors Game, so I would recommend it for readers in the 15-17 age bracket.  Very much looking forward to the next book in the series, to see who will make the next move in the game!
Reviewed by Christian Price