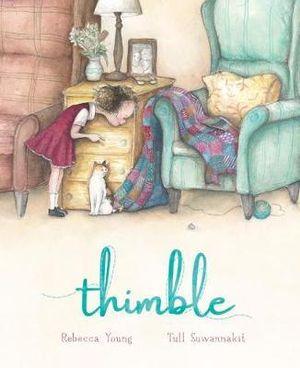 Rebecca Young (text), Tull Suwannakit (illus.), Thimble, Scholastic Australia, June 2018,  32pp., $24.99 (hbk) ISBN 9781743811627
Beautiful from the second you glimpse the front cover. The embossed thread-like lettering and tiny thimble just add that extra bit of magic that awaits to melt your heart. Tied up with a string of emotion through a touching tale of love and loss, Thimble represents a shining piece of healing power.
Rebecca Young paints a heartwarming story of special moments once shared between young Mabel and her Grandma, and her journey to finish a treasured piece that Grandma started.
Tull Suwannakit equally paints a beautiful and warm story of his own that phenomenally captures the memories and coincidental moments spoken in the text. His watercolour and pencil illustrations are amazingly precise yet sublimely fluid and animated with playfulness and soul.
When Grandma's time comes, Mabel finds that the small metal object left behind can harness more power than preventing a little stab on the finger. Whilst losing her grandmother is a huge stab to the heart, Mabel, her busy mum and tired Grandad find common ground. This is through not only the grief they share, but also the vegetables from Grandma's garden and the knitted blanket she'd left unfinished. Mabel's "stitches weren't as tidy as Grandma's", but the warmth and comfort her tribute offers is one of 'happy tears' joy and peace.
Thimble is a symbol of protection, of memory and of tenderness that provides its readers with a gentle expression of hope, love and family support. It beautifully soothes the heartache of losing a loved one. Recommended for ages four and up.
Reviewed by Romi Sharp