Delphine Davis (text) and Adele K Thomas (illustrator), The Talent Show (Mermaid Holidays #1), Penguin Random House, April 2019, 128pp., RRP $9.99 (pbk), ISBN 9780143796510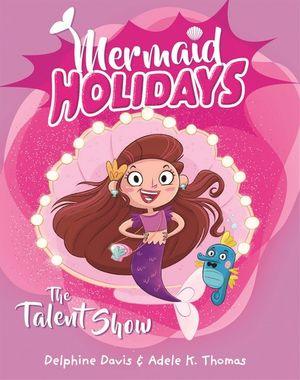 This shimmery, bright-pink book will jump out at mermaid fans keen to dive into chapter books. It's a bit wordier than a Billie B Brown or an Ella and Olivia (my go-to first chapter books for girls). The typeface is smaller too, but still larger than a standard chapter book, and the pages are swimming with fun illustrations to break up the text.
Four mermaid friends – Sophia Seashell, Willow Wave, Chloe Coral and Olivia Ocean – reunite for the holidays and decide to enter the local Turtleville Talent Show together. But Sophia wants everything done her way and gets so caught up in her own idea she forgets to consider her friends. Luckily, her seahorse pal Smedley is wiser and not afraid to tell her when she's being bossy and inconsiderate, encouraging her to make amends and celebrate her friends' unique talents.
The author has played with words to give the story an underwater feel. Key words are highlighted in hot pink for emphasis, particularly alliteration like "crushed and crumpled" and "whizzed and whooshed". Very reluctant readers could be enticed to just read the pink words while the story is read aloud to them.
The book's design is fun and girly with illustrations by Melbourne's Adele K Thomas on every two-page spread in black and white with pops of hot pink. Her characters are full of expression. There's eight chapters, separated by a hot pink page and introduced with a cute pink seashell holding a pearl. Each page is edged in hot pink, which cleverly makes the page ends appear pink too. There's shimmery pink sparkles on the cover too, reminiscent of a pearlescent seashell.
This is the first book in the new Mermaid Holidays series. The second book, The Magic Pearl, will be published in July and the third instalment, The Bake Off, is expected in September 2019.
Reviewed by Carissa Mason