Maria Isabel Sanchez Vegara (text) and Laura Callaghan (illustrator), Vivienne Westwood (Little People, Big Dreams), Frances Lincoln, March 2019, 32pp., RRP $19.99 (hbk), ISBN 9781786037565.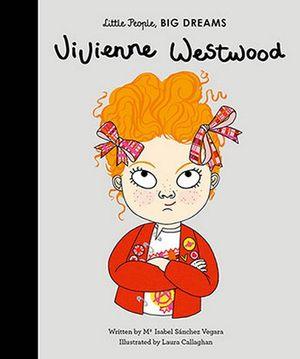 The Little People, Big Dreams series is fantastic at introducing readers to successful people and making them relatable, showing how they started off as children and then followed their dreams. This new book – Vivienne Westwood – introduces us to the iconic British fashion designer as a young girl who stood up for others and refused to follow the crowd. Westwood's story is interesting and inspiring. She was curious and worked hard and her career evolved as she followed her interests – great messages to inspire our own young readers. I love the addition of the timeline at the back that shows real photos of Westwood alongside key moments in her life.
Little readers will be attracted to the cover image of the cute young girl with a bit of attitude, then can see how she evolves throughout the pages as student, teacher, punk designer and fashion icon. The illustrations are bright, bold and full of colour and there's loads of extra detail in them to prompt further discussion about issues including war, bullying and activism. There's bright, thoughtful endpapers too, featuring badges inspired by Westwood's designs and ideals.
The Little People, Big Dreams series is aimed at children aged 4+ and my 10-year-olds enjoy it too.
Reviewed by Carissa Mason