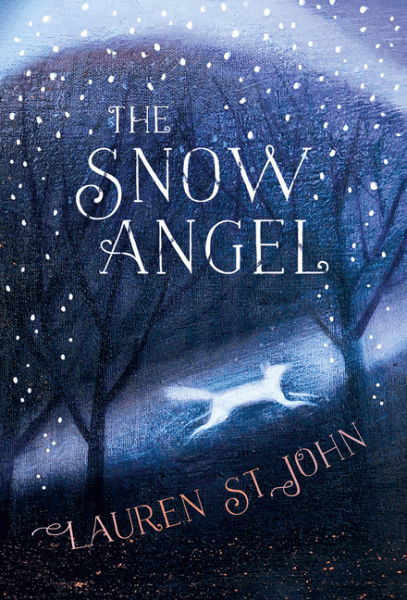 Lauren St John, The Snow Angel,  HarperCollins Australia, 20 Nov 2017,  256pp.,  $19.99 (pbk),  ISBN: 9781786695895
There is a small element of fantasy in this novel, as the title would suggest, but the main thrust of the story is a carefully presented look at what can happen to a young girl living in Nairobi who loses her family.
Makena is eleven years old, obsessed with climbing, with mountaineering, with Mt Everest and Mt Kenya, none of which is surprising as her father is a mountain guide and has taught her a lot. Her mother is a science teacher and both parents have educated Makena to be an independent thinker, to be respectful of tradition but not enslaved by it. She is thrilled when her father takes her on a trip to the slopes of Mt Kenya and it is there that she catches her first glimpse of an unusual fox. This episode establishes how Makena's personal relationship with landscape and nature are potent forces in her story.
When she loses both her parents to an Ebola outbreak her life spirals downhill. After a short time spent with indifferent but grasping relatives she finds herself living in the slums of Mathare, Nairobi, a vast city within a city with its own laws. Life there is unbelievably difficult and dangerous but she befriends an albino girl, Snow, and together they support and help each other. A strange coincidence, again involving a sighting of a fox, prompts an aid worker to rescue Makena from the slums and take her to an orphanage. Once there, life improves but Makena is desperate to find a new home and family although adoption rates for 12 year olds are low. What are her chances? A trip to Scotland gives Makena the chance to climb a mountain again and with the help of the mysterious fox she learns some of the touching realities of life.
Lauren St John is very informative about African beliefs and customs, some, such as the beliefs about albinos, quite harrowing. Sometimes this information can be intrusive but on the whole it is well integrated into the story. She touches on many issues in telling Makena's story including land use and conservation, the plight of people living in shanty towns, the vulnerability of orphans, particularly girls. She is critical of the spending habits of charities, and of governments that allow crime and corruption to continue. This makes The Snow Angel a serious book with an earnest purpose, but Makena is never just a vehicle to rail against the various evils that beset African society, rather she is always a believable and engaging little girl struggling to survive. Throughout all the misery and misfortune the strength and spirit of the ordinary people who help and befriend Makena shines through.
This is a life affirming book full of positive lessons for young readers.
Reviewed by Mia Macrossan