Various, The Puffin Book of Big Dreams, Penguin Random House UK, September 2020, 256 pp., RRP $32.99 (hbk), ISBN  9780241438206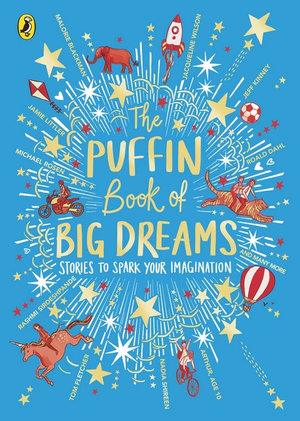 To celebrate 80 years of publishing by Puffin, the treasured children's publishing house has artfully gathered a dreamy collection of short stories and poetry into The Puffin Book of Big Dreams: stories to spark your imagination. 
Whimsically illustrated in black and white, the stories and poems are collected into dream themes. Within each theme is a mix of classics, extracts from longer novels, poetry, short pieces, and new wise and funny words from over one hundred authors and illustrators.
To give a sense of the scope of the stories in each section:
Dream Wild… mystical foxes, magical libraries, enchanted paintings
Dream Bold… dogs with jobs, wild birds, ancient powers 
Dream Far… big giants, new horizons, mysterious books, trolls, computer games 
Dream Brave… action for the environment, caring for animals, being brave 
Dream Kind… tales from Africa, India and valuing good deeds
Dream Forever… knights and ogres, real fairy godmothers, magical inventions
Aimed at middle to upper-primary school readers, The Puffin Book of Big Dreams is an ideal read-aloud book for bedtime reading with younger readers. For independent readers, the book is a standard hardback novel in physical size (222mm x 40mm x 162mm) also making it an easy one to curl up with. 
Readers will find favourite authors like Eric Carle, Julia Donaldson, Roald Dahl, Susan Cooper, Beatrix Potter, and an opportunity to explore other authors they may not have had a chance to read yet. My nine-year old loved Ed Vere's funny story The Good Boy about a dog who starts a new job. My wanderlust found a place to dream in the very special library that connects a young girl to her ancestors in Pakistan in The Ocean of Story, written by Nazneen Ahmed and illustrated by Areeba Siddique. I also enjoyed the bold adventure of a wild arctic tern in Keep Flying, Little Bird! written by Ben Lerwill and illustrated by Chris Wormwell.
The anthology also includes snippets of stories and quotes from UK school children alongside leaders and public figures who also share their own big dreams. This becomes a lovely journey into the dreams of past, present, and emerging voices. As explained in the Introduction, in celebrating their 80th birthday with this anthology Puffin aimed to have a "dream for everyone in this book: a dream for today and a dream for the future."
The Puffin Book of Big Dreams: stories to spark your imagination is a thoughtful and attractive anthology, brimful of all the ingredients for the sort of hearty dreams that are often best launched by curling up in bed when you are a bit sleepy, while cuddling a very good book of stories and poems.  
Reviewed by Angela Brown