Briony Stewart, We Love You, Magoo, Puffin Books, September 2020, 32 pp., RRP $19.99 (hbk), ISBN 9781760896904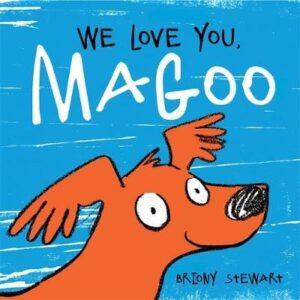 Who's Magoo? An incredibly cute canine character that kids will fall head over heels in love with! He's playful, a little bit cheeky and into absolutely everything. In fact, Magoo is rather like a toddler, wanting to do everything that the never-entirely-seen adult owner does. He tests the boundaries at mealtime, in the car, in the garden…everywhere!
Like Magoo, this picture book gets straight to it. There's no title page or endpapers. You simply open the cover (featuring a gorgeous close-up of Magoo's wide-eyed, smiling face) and the story begins. It is essentially a conversation between dog and owner, in rhyming verse that's succinct and funny, with a regular rhythm that begs to be read aloud:
Breakfast time!/One egg or two?
No, Magoo./This is for you.
Readers encounter a series of Nos throughout the story until at last arriving at a joyful and uplifting Yes.
Author/illustrator Briony Steward conveys great personality, warmth and humour in simple line illustrations. Magoo appears destined to become as beloved a character with the preschool set as Hairy Maclary.
And with its rounded corners and thick pages, this hardcover book should survive the repeated readings that the fans will demand!
Reviewed by Julie Murphy