Nat Amoore (text) and James Lacett (illustrator), The Power of Positive Pranking, Puffin Books, June 2020, 368 pp., RRP $14.99 (pbk), ISBN 9780143796381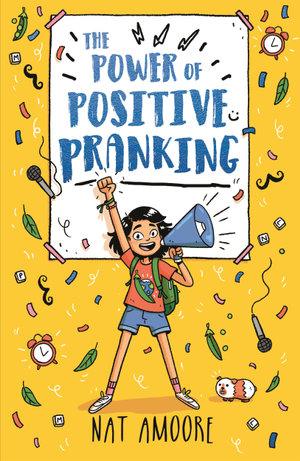 I enjoyed this book from the very first page — the clever­minded characters, directness of voice, respect for the ideas of others, commitment to friends and those less fortunate, and the reality of family with all its ups and downs.
The Power of Positive Pranking is about the activities of Green Peas, an organisation under the leadership of Casey Wu, and in conjunction with her friends Cookie and Zeke. The sole purpose of Green Peas is to deliver pranks — positive pranks that don't harm but certainly cause enough chaos around the school to drive the teachers crazy and bring delight to their classmates.  
But while Green Peas has delivered multitudes of expertly crafted pranks in the past, the focus on hilarity shifts when Casey, Cookie and Zeke become aware of a threat to their community — overdevelopment — and the mayor's intentions for the future of their town, Watterson. With the discovery of corrupt environmental and planning practices, Green Peas decides it is time to challenge the perceived complacency of adults and apply their talents for invention to a greater purpose.
Nat Amoore has cleverly constructed a book that entails a series of funny situations that grow in complexity as the pranks evolve into a vehicle for community justice. There are good lessons here that are cleverly incorporated into the story mainly through the conversations of the three main, very likeable characters. However, the most impressive element is the way Amoore delivers a book with cultural, social and age specific references within a remarkably gender non­specific book; without it being obvious. This is not to say that there aren't female and male characters (the children's names are gender neutral as well) but gender is not the main indicator of ability or behaviour.
This marvellous book is about aptitude, intelligence, adaptability, and self­reliance. It's about relationships with friends, family and the community delivered to us with humour, fine writing and a dose of craziness. The Power of Positive Pranking is a great read for everyone.
Reviewed by Jennifer Mors