David Metzenthen (text) and Mairead Murphy (illustrator), One Runaway Rabbit, Allen & Unwin, July 2019, 24 pp., RRP $19.99 (hbk), ISBN 9781760523558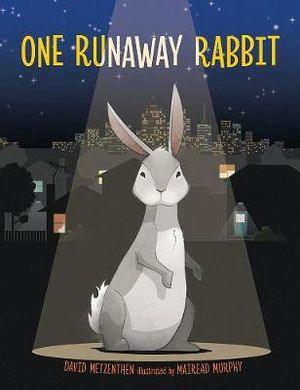 This book is a worthy entry on the Shortlist for the Early Childhood category in this year's CBCA Book of the Year Awards. It has all the attributes of a great picture book for littlies – a strong narrative told through minimal text and attractive illustrations with an engaging main character, a villain, drama and tension. 
Lulu is a pet rabbit whose curiosity gets the better of her when she finds a hole in the fence. But there are dangers lurking outside the safety of the yard, especially one with russet fur and a bushy tail. The chase is on but never fear – quick thinking and a disguise save the day.
With only three words per double page spread, (most phrases starting with the word 'one') this wonderful picture book requires detailed examination of the illustrations to learn all the nuances of the plot. From the small mouse to the aerial perspective of the chase, these dark, sombre night-time pictures encourage visual literacy. The warm, fuzzy final illustration is the only text starting with 'two'. The final endpaper shows a map of Lulu's journey as she sleeps off the stresses of the night.
Highly recommended.
Teacher's notes can be found here.
Reviewed by Lynne Babbage