Jackson Pearce (text) and Tuesday Mourning (illustrator), The Next Level (Ellie, Engineer #2), Bloomsbury Publishing, December 2018, 165 pp., RRP $14.99 (pbk), ISBN 9781547601097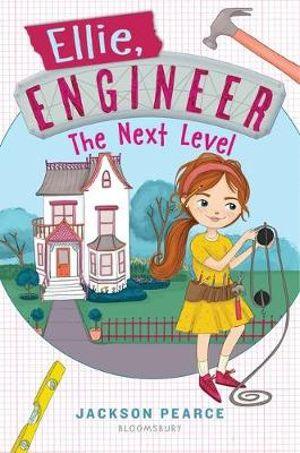 Ellie, Engineer: The Next Level follows on from the success of Ellie's adventures in Ellie, Engineer by Jackson Pearce. Ellie Bell is a girl who strives to invent solutions that help to improve life for the people around her. Ellie is well-equipped to make an impact, with ingenuity, a tool-belt and her invaluable friends, Kit and Toby. Ellie applies her creative thinking to everything, from designing cookie cutters to elevators.
Illustrations by Tuesday Mourning depict Ellie's solutions as design sketches for her machines. The three friends find themselves with unpredictable outcomes when testing Ellie's design. Engineering doesn't always go to plan!
There is a balanced emphasis in the story of the process involved in invention. From the art of understanding engineering concepts, to the skill of making things with tools. Ellie's creativity in design thinking is also emphasised. Ellie and her friends show how they learn from failed design. They design from imagined and built prototypes and by iterating design ideas.
Pearce crafts her young characters in a way that creates a sense of gentle activism. Ellie wrestles with feeling that she must prove that she is a serious engineer. Toby is upset when an assumption is made that he doesn't like dolls just because he is a boy. Ellie even discovers her own biases. Mrs Curran, an older lady in the neighbourhood, is not what Ellie expected. She reflects on the stereotypes that younger people make of Mrs Curran's generation.
As Ellie navigates her friendships, she often brings out the best in her friends. Ellie models gratitude and recognition. She celebrates the influences of her friends in the ideas of engineering. This is a message sometimes missing in some STEM books, that genius design is rarely a completely solo endeavour.
Ellie uses her engineering ideas for good, finding solutions that help people. Pearce's development of Ellie's grace, ingenuity and joy of engineering, creates a relatable and intelligent ambassador who could have some influence on how young people perceive STEM subjects.
Included in the book is 'Ellie Bell's Guide to Simple Machines' like pulleys, levers and other simple mechanisms. There is also an Ellie, Engineer Project Handbook based on the first novel available from the publisher's website.
Ellie, Engineer: The Next Level would make a great addition to school library STEM collections and maker spaces.
Reviewed by Angela Brown