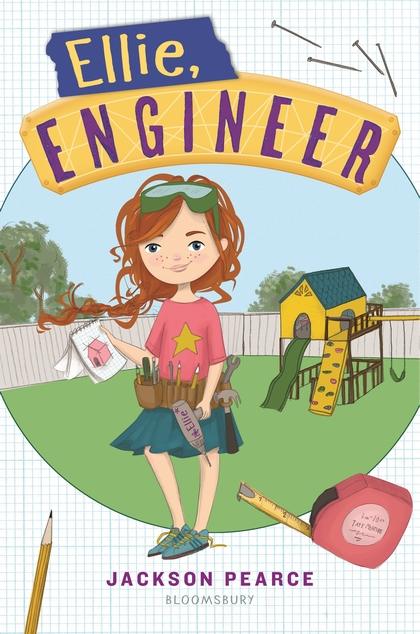 Jackson Pearce (text), Tuesday Mourning (illus.), Ellie, Engineer, Bloomsbury Australia, 1 March 2018, 212pp.,  $12.99 (pbk), ISBN 9781681199672
If anyone needs help, Ellie is the person to ask.  She is resourceful, considerate and certainly has a can-do attitude to all things that come her way.  That doesn't mean her life is without the occasional problem – which causes some considerable anguish – but Ellie just does her best and has to trust others will understand.
As well as being a great person, Ellie, Engineer is an inventor, designer and builder of some rather marvellous things.  These inventions are sometimes in response to the need of a friend, other times for mischievous fun and, this time, it is to be a gift for her very best friend, Kit.  But it is a secret.  Kit must not find out which unfortunately creates a rather awkward situation that will test friendships.
Ellie, Engineer deals with a whole range of issues that young people are presented with every day; gender issues – boys don't play games with girls and vice versa – value of independence, responsibility of actions and the real need for friendship amongst peers
I loved this book as much as any adult book I have read.  It was all so believable – a lot of fun and creative cleverness – and engaging from start to finish.
At first, I am a little embarrassed to admit, I thought the book may have been heavy on the 'girls can do anything' message – but it is so much more than that.  In addition to Ellie's abilities, Ellie understands the value of working with others, asking for assistance when help is required and involving her friends in her projects when she lacks a particular ability.  In Ellie's world, everyone is allowed to shine.
Ellie, Engineer is a positive and optimistic book for girls and boys.  It is also a great resource for clever ideas, illustrated in Ellie's journalistic style.  Who would have thought you could make a water balloon launcher from brooms, a funnel and stretchy exercise bands?   It's genius.
A downloadable activity pack is available on the Bloomsbury website.
Reviewed by Jennifer Mors