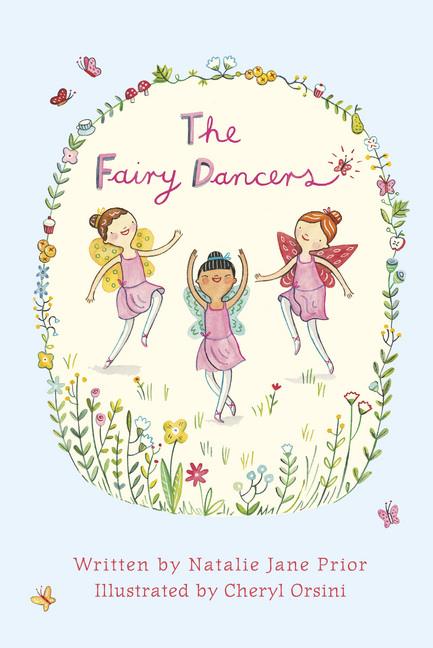 Natalie Jane Prior (text), Cheryl Orsini (illus), The Fairy Dancers, Harper Collins, 1 October 2015, 48pp., $19.99 (hbk) ISBN 9780733333576
This delightful book combines two things most little girls love – fairies and ballet dancing. It follows three friends as they attend a regular weekend ballet class with a teacher they all adore. Little girls who already take ballet lessons will be able to relate to the girls in the story – Mia, Emma and Grace – who wear their hair in ballet buns, point their toes and practice skipping like fairies. Little girls who don't take ballet will probably ask mum and dad for lessons.
Award-winning Brisbane author Natalie Jane Prior has split the book into three stories: The Magic Slippers, The Secret Birthday and The Fairy Concert. There's a bit of magic woven in too, with ballet slippers that amazingly change back to pink after being painted by a young dancer whose favourite colour was blue.
This is a beautiful book and would be lovely to give to a girl about to start ballet classes or star in her first concert. The illustrations are bright and cheerful and included in colour on every page, which is perfect for emerging readers and younger children. The drawings, by New South Wales illustrator Cheryl Orsini, give the book a whimsical feel, from the butterflies and flowers encircling the fairy ballerinas on the cover, to the gorgeous floral end pages and the pictures in between. They make it the sort of book that could become a treasured childhood keepsake. Orsini has illustrated a handful of Prior's books now, including her The Dolls series, but the pictures in The Fairy Dancers are my favourite.
You can download black and white versions of the illustrations in the book to colour in. There's four pictures and also a find-a-word in a five-page PDF. Scroll to the bottom of the author's blog post about the book for the link.
A Teaching Guide can be found on the HarperCollins website.
Reviewed by Carissa Mason