Gareth Ward, The Clockill and the Thief, Walker Books Australia, August 2019, 352 pp., RRP $17.99 (pbk), ISBN
9781760651206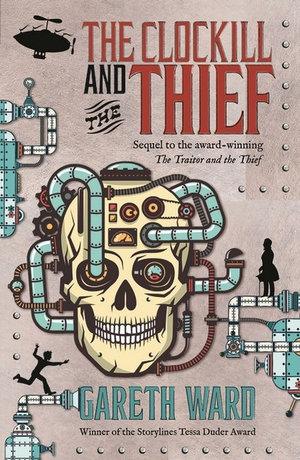 Sin is back with more steampunk spy-school action and adventure. His life hangs by a liquid blue thread, someone seems to be trying to sabotage him at every turn, and there are tensions developing in his friendship with Zonda. Sin and his fellow students are being trained on the dangerous airships where even the smallest mistake can mean a nasty and sudden death. And as if Sin doesn't have enough to deal with, he and Zonda and Velvet have been tasked with recapturing the sinister Eldritch, whatever it takes.
The action is well-paced and dramatic, and I enjoyed the life-threatening classes in airships and the dramas between the students. The tensions that crop up between Sin and Zonda were particularly engaging, and I was pleased to find that Zonda had more of a role to play in this sequel, and that her character was given a little more room to develop. Velvet, on the other hand, took more of a back seat.
The concept of trust, and particularly trust under fire, is central to The Clockill and the Thief, and also second chances and redemption. I would have liked to see these themes teased out in more depth as the climax unfolded, and there were a few threads that felt as though they didn't end up tying back into the central story. The slight unevenness in the pacing, however, didn't impact on my enjoyment of the book, and I'm looking forward to seeing if some of the elements and characters that didn't get as much page time or resolution as I would have liked wind up playing a bigger role in the next book in the series.
Once again, this is a great series for readers 11 and up who have enjoyed Eoin Colfer's Warp books, or who are looking for a slightly younger and more action-based entry into something like the Mortal Engines series by Phillip Reeve. There are plenty of airships, death-defying moments, and relentless clockwork assassins to keep the heart racing, and I'm looking forward to seeing where Sin and his friends go from here.
Reviewed by Emily Clarke