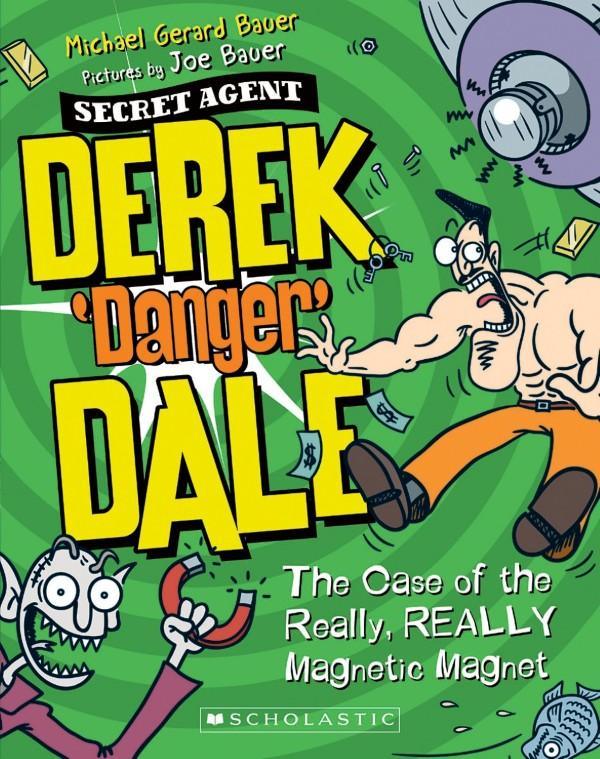 Michael Gerard Bauer (text),  Joe Bauer (illus.),  The Case of the Really, REALLY Magnetic Magnet (Secret Agent Derek 'Danger' Dale #3),  Omnibus/Scholastic Australia, 1 July 2015, 128pp., $12.99 (pbk),  ISBN: 9781742990675
Author of the popular Ishmael series and the award winning The Running Man, Michael Bauer has created a wonderful character in his bumbling hero Derek Dale. Spin off from the highly regarded Eric Vale series, secret agent Dale must defeat the evil doctor Evil MacEvilness before his invention of a giant magnet creates havoc, but can 'Danger Dale's' disguise as one of MacEvil's goons really fool him?  This is not all our mad caped hero must contend with; there is his very bossy boss and of course the 'Notoriously Nasty,' but 'Nevertheless Nifty, Ninjas' and Petunia the Giant Piranha just to keep him on his toes.
Joe Bauer's graphic illustrations compliment and build on the clever word play and tongue-in-cheek humour in this well paced novel for children 8+.  The book's visual format and humour may also appeal to reluctant readers.  Highly recommended.
Teachers' Notes can be found on the Scholastic website.
Reviewed by Mem Capp