Felice Arena (text) Tom Jellett (illustrations), The Besties to the Rescue, Puffin Books, January 2020,80 pp., RRP $9.99 (pbk), ISBN 9781760890971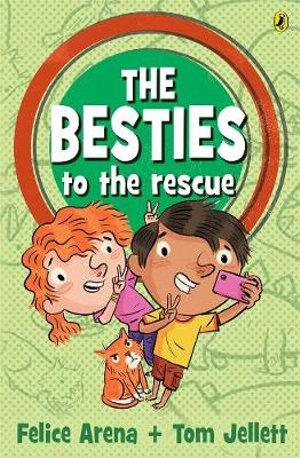 Next-door neighbours Oliver and Ruby have been besties forever. Ruby loves playing the ukulele and singing, and Oliver loves drawing comics. When Cutie Pie, the cat knocks a baby bird from a next, Oliver and Ruby take on the task of caring for the bird until it's ready to fly.
The Besties is a new Australian early-reader series based on the adventures of Ruby and Oliver. More than just a story, these books are a complete package of fun. The Besties to the rescue includes a guide to caring for a baby bird, a comic, jokes, and ukulele chords and lyrics to the song that Ruby sings which can be found on the website. Somehow all of this is contained within the book's 70 pages, meaning it's not overwhelming for young readers. 
The Besties to the Rescue is a relatable, funny and easy-to read story which is engaging as well as somewhat educational. With the pictures occupying more space than the words, which are presented in a large well-spaced font, The Besties make a good stepping stone from picture books to chapter books. Cleverly, the creators have paired their books with music in a way that encourages kids to learn ukulele and sing. It's worth checking out their website. 
The Besties books are perfect for early-primary readers and should be a fun, collectable series.
Reviewed by Bec Blakeney