A.F Harrold (text) and Emily Gravett (illustrator), The Afterwards, Bloomsbury Publishing, November 2018, 244 pp., RRP $24.99 (hbk), ISBN 9781408894316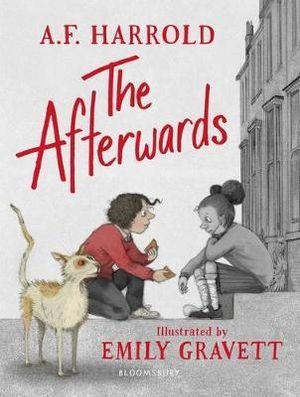 This handsomely packaged hardback is a story about love, loyalty, betrayal and recovery from grief. 10-year-old December (Ember) and Happiness (Ness) are best friends who live next to each other. One morning Ness doesn't come to the door to walk to school and later in a special school assembly Ember learns Ness has died in a playground accident. I felt this was a very hard way for a child to learn that her best friend had died, even though at that time her father didn't know about Ness. Ember has a great relationship with her single-parent dad because her mother had died years before; but after Ness's death Ember finds a way into the Afterworld so she can bring Ness back.
It's a frightening journey for both Ember and for the reader, as she moves from multi-coloured reality to the greyness of the otherworld. Along the way she meets spooky Uncle Graham whose dog Betty, recently killed by a car, is also there. Uncle Graham was an aberrant character, a stranger-danger model, even though he was a known family member. Ember also comes across her mother who tries to lure Ember to join her. And the solitary cat who tries to change Ember's mind along the journey.
For me as a reader, I was frequently disconcerted and challenged by the decisions made by and for Ember. Harrold however maintains the reader's equilibrium through subtle and frequently dark humour and Gravett's illustrations keep Ember in reality. Ember made the right decision to return to her life, recognising that she didn't have to forget those who had died but didn't have to join them.
Design elements abound. The endpapers of doves, skulls and morning glory are reflected in Ms Todd's dress. The cat, in Harrold's words, stalks lightly, unnamed and alone, through, between and out of the pages.
The book is written for middle school readers, but it's not for everyone, and needs to be introduced with adult discretion. There is a reading guide available, but I am not sure it is a story to be read to a whole class. The themes are powerful and will result in lots of discussion.
Recommended, because it is beautifully written and illustrated. For libraries, especially in schools, I would hesitate to have it on completely open shelving.
Reviewed by Maureen Mann