Rebecca Fung (text) and Kathy Creamer (illustrator), Princess Hayley's Comet, Christmas Press, November 2018, 70 pp., RRP $13.99 (pbk), ISBN 9780994528070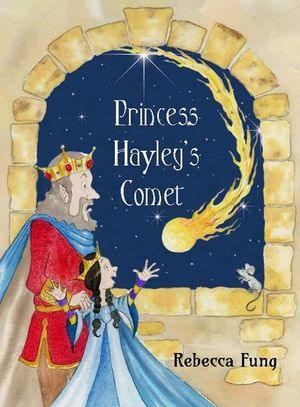 Tired of the exotic and elaborate gifts her father, the King, arranges for her birthday each year, Princess Hayley sets her sights on a comet for her tenth birthday. But rather than wait for the King's advisors to find her one, independent Hayley, with the help of her friends, is confident she can do the job herself. Realising that comets are 'feisty, hasty, impatient' things, Hayley comes up with a strategy to 'build the world's biggest and best comet-catcher'. Of course, things don't go to plan, but this Princess is a quick thinker who knows how to improvise, ultimately learning an important lesson once the comet is finally within her grasp.
There is much to like in this book, author Rebecca Fung's first. The healthy dose of fantasy lends itself to a far-fetched, but entertaining, plot. Kathy Creamer's cleverly detailed black-and-white illustrations deftly enhance both story and characterisation. With chunky dark plaits, ankle boots and leggings under her fancy dress, Hayley is an inquisitive, hands-on adventurer and a welcome change from the stereotypical princess.
Featuring elements of fairy tales and fables, Princess Hayley's comet quest can be read simply as an adventure or, on a deeper level, as a manifesto for young girls: set your sights on what you want, surround yourself with good people for support, learn what you don't know and seize opportunities along the way.
Touching on themes of persistence, independence and friendship, this royal space romp will delight young readers aged 6+.
Reviewed by Maura Pierlot