RA Spratt, Stuck in the Mud (The Peski Kids #3), Puffin Books, August 2019, 288 pp., RRP $16.99 (pbk) ISBN 9780143796350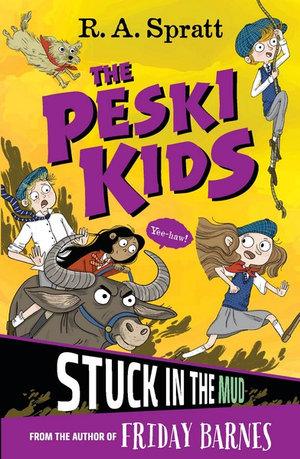 This series is fantastic. The author has a knack for taking the ordinary and making it epic and outrageous. The characters spurt out exactly what they're thinking without any filter. It's refreshingly honest and so funny.
The series centres around three siblings, Joe, Finn and April, who found out in book one that their homely mother was actually an international spy. She's been caught, so the kids are sent to live with their introverted father, who is still coming to terms with the knowledge he married a spy.
The book starts with a glimpse at their mum, who's being interrogated – just enough of a snippet to pique readers' interest. Then it's onto the Peski kids who are the centre of attention in their small country town because their dad has just proposed to their neighbour's beautiful Swedish nanny to prevent her from being extradited for overstaying her visa! As one classmate says: "Wouldn't you rather we discussed it with you rather than behind your back?"!
But the main story is the annual Mud Run. Finn wins a competition to design the race and is given free reign and a team of construction workers with a bulldozer and a crane! Joe is recruited to win the race to save the local bakery from ruin and April is forced to race as a guide for a vision-impaired classmate as punishment for calling him out for being obnoxious, even though he truly is.
The storyline is fast-paced and entertaining with mystery, mayhem, mud and plenty of wry humour. This is a book you'll enjoy reading aloud and there's so many opportunities for interesting discussions.
Stuck in the Mud is the third book in the new Peski Kids series by Australian author RA Spratt. Book 4 Near Extinction is due out in January 2020.
Reviewed by Carissa Mason