Alex Miles, Game On (Girl Geeks #2), Penguin Random House Australia, July 2019, 192 pp., RRP $14.99 (pbk), ISBN 9780143795063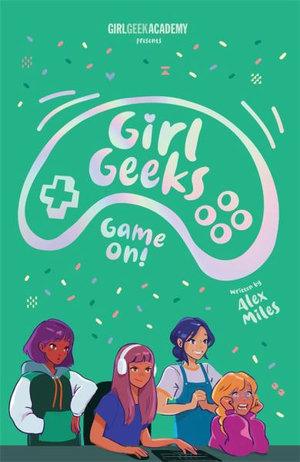 I often nag my kids to "get off the computer", but this book backs up what my husband keeps saying – there is loads to be learnt playing quality computer games. This book centres around Niki, who loves riding her skateboard and playing online games. When Niki finds out a national e-sports tournament is hosting a kid's competition for the first time, she's determined to play. The tournament will be held in a huge sports stadium, filled with teams battling each other online and it will be televised. It's an epic event.
But Niki needs to convince her mum to let her enter, because she'd prefer her daughter played outside. Then she needs to win back the confidence of her team: they're all boys and, since they'd previously only played online, they had assumed Niki was a boy too. They are pretty surprised when they meet face-to-face, and one boy is quite disparaging towards her. Could a girl really be good at gaming? Niki battles the gender stereotype with the encouragement of her school friends and shows how gaming helps develop great skills, such as strategic-thinking, planning and teamwork. That's got to be worth having a go at.
Game On is the second book in the new Girl Geeks series. The Hackathon is also out now and books three and four, Perfect Holidays and Making Magic, are due to be published in October 2019.
The Girl Geeks series is written by Melbourne author Alex Miles in partnership with Girl Geek Academy, an Australian-based global movement that aims to increase the number of women with successful technology and games careers.
Reviewed by Carissa Mason