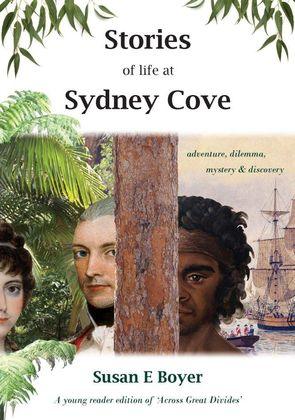 Susan E. Boyer, Stories of Life at Sydney Cove, Birrong Books, 28 Oct 2016, 260pp., $18.95 (pbk) ISBN: 9781877074493 
Following Susan Boyer's successful work Across Great Divides: true stories of life at Sydney Cove this new young reader edition is written for school aged children (10 years+)
Australia's colonial history unfolds chapter by chapter in this carefully balanced and authentic mix of true stories and well researched primary historical sources; with diary entries, letters and official documentation slotted in among the gripping narrative, weaving together the very human experiences of convicts, marines and the Indigenous population.
In addition to the adventures, discoveries and dilemmas of the actual recorded events, the author uses imagined dialogue to breathe life into the historical people listed aboard the first fleet.
Following the prisoners from their crime and conviction through to first contact with Aboriginal people is a fascinating read. We learn how the forced separation of Henry and Susannah Kable and their beloved baby made the English newspapers at the time; how Elizabeth Hayward and John Hudson, the convict children, finally made a place for themselves after their harrowing start in life; and we come to understand the inspiring strength and bravery of Nanberry and Boorong, the Indigenous children who came to live among their strange white neighbours.
This title is an enlightening read for anybody with an interest in Australia's colonial past, but its breadth of study is particularly relevant for the upper-primary history curriculum. The text provides evidence of the significant events and interactions that shaped early Australian colonies as well as the everyday experiences that may help young readers to think about some of the key inquiry questions surrounding this topic.
Because of the style in which the author has chosen to write the book, the stories are told from a variety of different perspectives; giving teachers and students the perfect opportunity to explore the dynamic relationships between the convicts, soldiers and aboriginal people at the time.  Given the many powerful and emotive situations that occur throughout the stories, teachers might also consider using dramatic techniques such as hot seating, emotion graphing, and visualisation, affording students the chance to empathise with the historical figures they are reading about and to generate questions for the whole class to consider.
Stories of Life at Sydney Cove is a fantastic way for young readers to begin to understand the impact that first contact had on the lives of all involved; seeing the true stories through the eyes of real people and told in such an engaging manner that it reads like fiction.
Reviewed by Lisa Hoad