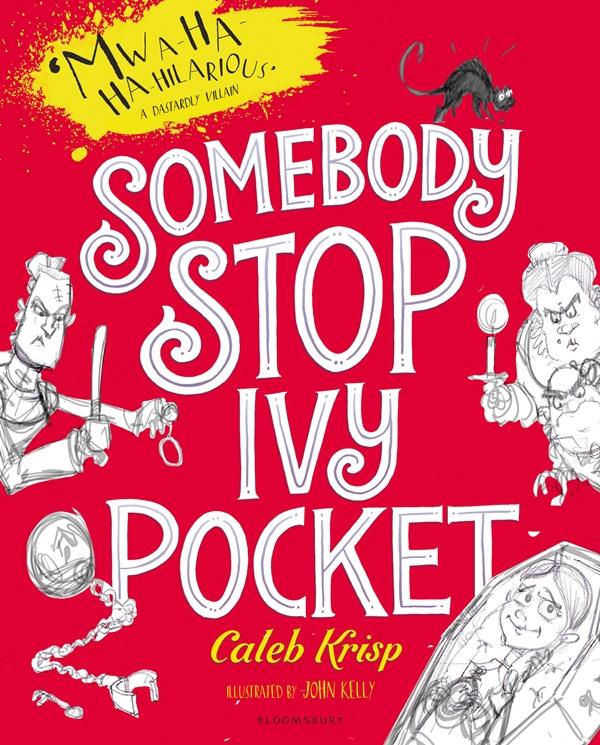 Caleb Krisp (text),  John Kelly (illus),  Somebody Stop Ivy Pocket (Ivy Pocket #2),  Bloomsbury/ Allen & Unwin, June 2016, 321pp., $14.99 (pbk),  ISBN:9781408858677
This is the 2nd book about Ivy Pocket, an extraordinarily verbose young lady who wouldn't recognise a dastardly evil doer if they turned up and introduced themselves carrying a resume of their crimes committed and gaol sentences. Part of the problem is that Ivy presumes that everyone she meets is not evil, but merely not as clever as she. Her own author describes her as: 'violently deluded, majestically self important, frequently ill-mannered, and has the intuitive sense of a pound cake.'
Anyway, these character traits place her in some perilous situations which she manages to escape from without too much difficulty.
Ivy begins her latest adventures as the newly adopted daughter of two coffin makers and life from there onwards is a maelstrom of disasters, mysteries and narrow escapes. She arrogantly and incompetently deals with a girl trapped in another world, a nasty ghost, a dodgy librarian, mysterious deaths and a great deal of housework and reading aloud.
Somebody Stop Ivy Pocket is suitable for children, aged 10-14, with warped senses of humour. Actually, anybody with a warped sense of humour will enjoy it. I did, even though I'm quite normal.
Ivy's final and no doubt equally thrilling book, Bring Me The Head Of Ivy Pocket will be coming out in 2017. An activity pack can be found online.
Reviewed by Katy Gerner