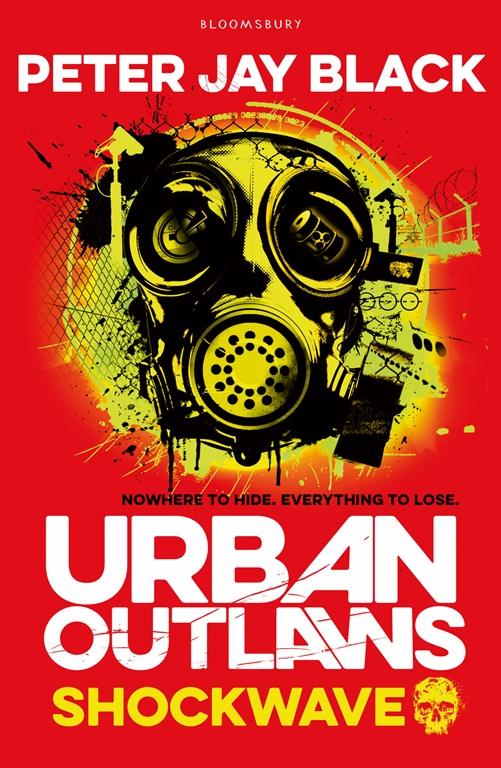 Peter Jay Black,  Shockwave (Urban Outlaws #5),  Bloomsbury/Allen & Unwin, Jan 2017, 352pp., $14.99 (pbk),  ISBN: 9781408851517
I… am… exhausted!
Not only are Jack, Charlie, Obi, Slink and Wren running all over London, they are trying to evade capture and deal with the effects of a deadly virus. Just reading this story makes me want to lie down, close my eyes and fall into an exhausted sleep… but it's too exciting a read to put down!
Peter Jay Black is certainly a talented writer. Lots of imagination has gone into this series about super intelligent youth planning Robin Hood style heists against arrogant and rich criminals and then giving the spoils to people in desperate need. This time the Urban Outalws are the ones in need.
To get the best from this final book it would be best to have read the previous four books in this series. This way you will be up to speed on the events leading to the current situation and see the development of each character and the relationships between each.
In Shockwave the Urban Outlaws are infected with the deadly Medusa virus. Their arch enemy,  Hector Del Sarto used them to start a mass panic throughout London forcing evacuation of the whole city. Will they get to the antidote before the virus kills everyone? London, and possibly the world, is depending on the Urban Outlaws to outwit the Del Sarto's evil scheme.
If anyone over 10 years is a fan, as I am, of authors Robert Muchamore, Anthony Horowitz and Alex Scarrow, they should definitely get their teeth into this gripping series!
Reviewed by Sharon Smith