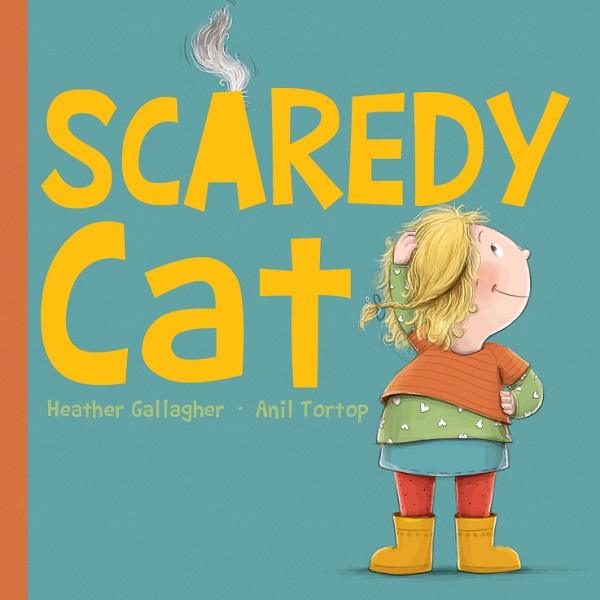 Heather Gallagher (text), Anil Tortop (illus.) Scaredy Cat, New Frontier, 1 May 2018, 32pp.,  $24.99 (hbk), ISBN 9781925594171
What a list of things Scaredy Cat is afraid of! He's afraid of tall trees, bees, the narrator's grandmother's sneeze, boys, hoses and lots, lots more. However, the narrator is there to protect him as she is brave and unafraid of pirates, crooks or anything else which worries Scaredy Cat.  The last double-page spread shows the narrator, dressed in a karate suit, chasing after her pet whose tail and hind legs we see leading us onto the final page where Scaredy Cat's true identity is revealed!
There is a lot of joyful word play in this story, with wonderfully descriptive adjectives for many of the things of which Scaredy Cat is afraid – 'chomping, chewing garbage trucks', for example. Each group of three things of which he is afraid rhyme, making this fun to read-aloud and for children to join in. The list of things is broken up from time to time with the repeated phrase asking if anyone has seen the Scaredy Cat – 'he's afraid of this and afraid of that'. This breaks up the narrative, preventing it from becoming just a long list and re-focuses attention on the search for Scaredy Cat.
The illustrations support this narrative very well as children will enjoy finding the hidden tail or paw that appears in each illustration. The illustrations are colourful and add to the fun. The layout is generally double-page spreads, allowing a kind of panoramic view of the action. The brave little narrator/heroine is an endearing character who, although simply drawn, clearly has lots of personality.
Reviewed by Margot Hillel