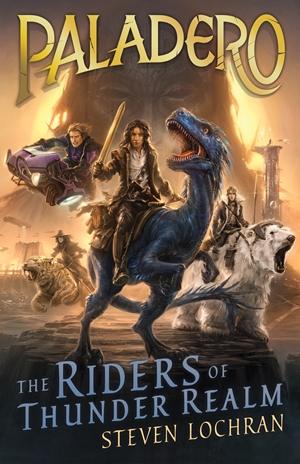 Steven Lochran,  The Riders of Thunder Realm (Paladero #1),  Hardie Grant Egmont,  1 July 2016,  320pp.,  $18.99 (pbk),  ISBN: 9781760124700
In a world where farmers herd breeds of dinosaurs known as thunder lizards instead of livestock and where cactus forests and bands of bounty hunters roam and lurk around every corner, the paladeros are the cowboy-knights who assist the farmers and, in times of war, take up arms to fight on the backs of their prehistoric mounts. Joss, fifteen, an orphan and the last surviving member of the Daheed race, is a prentice, training to be a paladero, and when circumstances give him a chance to take the rite of passage early, he takes it eagerly. He ends up finding himself having to fight all the way alongside his brethren to protect their honour and any chance they ever had of becoming a paladero whilst they are targeted by evil bandits, creatures and immortals.
The Riders of Thunder Realm was a thoroughly enjoyable read- not too heavy or deep, but still gripping when the action took place and with well-written characters who were both plot-driven and contributed to the development of Joss himself as a character. It was largely a goal-driven plot, complete with necessary clichés of certain battles and obstacles, but still original in its own way. The setting, Thunder Realm, is imaginative and appealing to younger audiences with its stone castles, herds of pterosaurs, and towering mega-cities. The book ended with an epilogue that definitely left the reader wondering when the next book was going to come out (no word yet- I checked!).
A great read for fans of the Deltora Quest series by Emily Rodda, and the next step up from the Beast Quest series by Adam Blade, with a vivid and appealing cover, The Riders of Thunder Realm definitely got a big tick from me. Overall, an action filled novel for all kids aged 9-15 (and a perfectly enjoyable and easy read for those over that age range!) that even included references to transgender issues.  perfect for fans of quests, magic, dinosaurs, and steampunk settings.
Reviewed by Amy Cooper