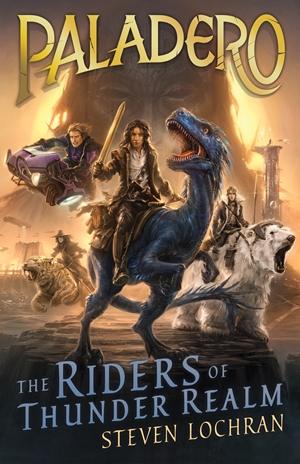 Steven Lochran,  The Riders of Thunder Realm (Paladero #1),  Hardie Grant Egmont,  1 July 2016,  320pp.,  $18.99 (pbk),  ISBN: 9781760124700
One of the things I liked most about The Riders of the Thunder Realm was just how visually realised the world was. With dinosaurs, jet-cycles, sabretooth tigers and medieval battles, it could have been a messy and confused collision, but the world and the characters felt solid and fascinating. There is a strong sense of a vast world with an interesting history behind this one story.
Joss Sarif, prentice to the dour paladero, Sur Verity, gets in over his head when he takes the place of another paladero in the deadly competition of the Gauntlet and, against all odds, wins the title of Blade Keeper away from his mistress.
Now Joss has to prove himself worthy of being the youngest paladero ever, and wielder of the Champion's Blade, by completing the dangerous journey to bring back a rare Questing Egg. His three companions, also seeking to become true paladeros, have their own share of secrets.
Secrets, and trust, and honour are the central themes of this story. Joss himself is visited by temptation, but puts his own honour above any enticements the mysterious Thrall can offer him. It becomes obvious though, that no matter what they say, at least one of his companions has given in to the power offered in exchange for betraying the quest and handing over the Constellation Key, which is literally the key to their quest.
Every one of Joss' companions has something they desperately want. Joss himself knows very little about his own past, and has spent his childhood staring at the walls of the orphanage where he grew up, dreaming of the day he can become a paladero. Zeke is struggling under the weight of his family name and tradition, trying to live up to a father and brothers who despise him. Drake is a boy born in a girl's body, fearful of how his friends will react if they find out his secret. And Hero is an enigma who refuses to give away more than she must. Joss struggles with deciding who to trust, and makes some mistakes along the way.
In the end, the theme of honour wins through, but one of the characters learns that once honour and trust are sold out for fame and petty vengeance, they're not so easily bought back, no matter how sorry you are. The remaining three characters, however, are faced with a difficult decision – completing their quest means taking the last remaining eggs of the Questing Bird, the Quetzalcoatlus, and dooming the creature to extinction, but without the eggs they may not be confirmed as paladeros. And so Joss and his brethren risk everything they've dreamed of and fought for in order to do the right thing and protect the Questing Bird, which is, in the end, the soul of honour.
Boys and girls of nine years and up who are looking for adventure and fantasy with a difference will enjoy diving into Joss' quest. Fans of Mortal Engines by Phillip Reeve, or Scott Westerfield's Leviathan series might also enjoy this slightly younger, but no less gripping, blend of action, technology and Jurassic fantasy.
I'm looking forward to finding out more about these characters and this world in the next volume of Paladero.
Reviewed by Emily Clarke