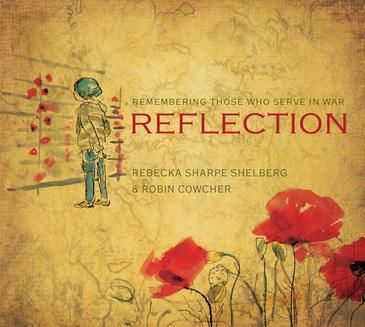 Rebecka Sharpe Shelberg (text) Robin Cowcher (illus), Reflection: remembering those who serve in war, Walker Books Australia, 1 April 2016, 32pp., $24.99 (hbk) ISBN 9781922179050
Red poppies like splashes of blood on the endpapers mark the beginning of a moving and thought-provoking experience for the reader. We are taken on a journey of reflection and remembrance of those who serve in war.
The pen and ink sketches with watercolour wash capture perfectly the mud-stained feet tramping along, the soldiers hemmed in by barbed wire, men running from tanks and the more recent conflicts with women taking part in the fighting. Each picture is linked with a war Australia has been involved in, from historical conflicts dating back as far as the Boer War to the current engagements in Iraq and Afghanistan.
Author and illustrator have created a series of evocative words and images which blend and merge seamlessly in double page spreads, linking and connecting the elements of the Anzac Day ceremonies with the experience of soldiers in active service.  Each illustration depicts modern families commemorating Anzac Day juxtaposed with scenes of soldiers and warfare, with the contemporary actions of remembrance mirroring the past events.
Reflection is a picture book which abounds in symbolism, beginning with the sprig of rosemary at the feet of the marching soldiers. Its simplicity in presentation makes this book suitable for Grades 2 to 6. It can be appreciated at a basic level or in greater depth as the sparse and simple text of one sentence per double-page spread allows for class groups of different levels to discuss, question and reflect.
The book is supported by teachers' notes designed for levels two, three and four which are useful for classroom discussion and study, and a dedicated website containing study links, worksheets and fact sheets.
Reflection is a worthwhile addition to all school libraries and an invaluable resource in any primary level classroom which is studying war or exploring any of its associated topics.
Reviewed by Grace Nolan