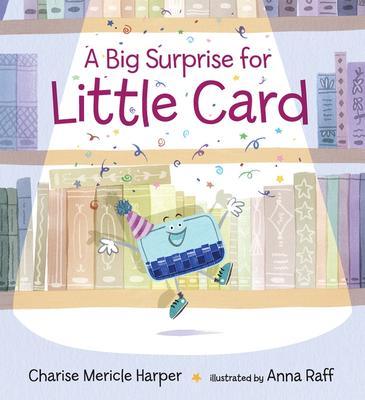 Charise Mericle Harper (text),  Anna Raff (illus),  A Big Surprise for Little Card,   Walker Books Australia,  1 Feb 2016, 40pp., $24.99 (hbk),  ISBN 9781406367263
In a time when we have a multitude of cards of all descriptions bulging our wallets, it is surprising that there hasn't been a picture book about them before now. In this original title the reader is introduced to Little Card, who lives in a building with lots of other cards. There is Round Card, destined to be a price ticket, Wide Card a postcard, Tiny Card and Giant Card but Little Card and Long Card are waiting for their letters of appointment to arrive.
With identical initials, there is a mix-up and Little Card heads off to birthday card school. When the mistake is realised, it is too late to be retrained and Little Card is sent off to the library. However, he was well trained at birthday card school and shouts "Happy Birthday!" in his loudest voice as he enters the door. This then becomes "Happy Library!" before the librarian intervenes and introduces him to his new owner, young Alex. The delights of modern libraries (minus any computers!) are then revealed to Little Card, who makes the joyful discovery that, unlike birthdays, library days are every day.
Using muted pastel colours, the illustrations bring inanimate cards to life and imbue them with personality. They have been given facial expressions along with hands and feet for movement and gestures. This is a humorous quirky story which will resonate not only with library staff and users, but hopefully with readers everywhere.
Reviewed by Lynne Babbage