Dylan Meconis, Queen of the Sea, Candlewick Press, June 2019, 400 pp,. RRP $37.25 (hbk), ISBN
9781536204988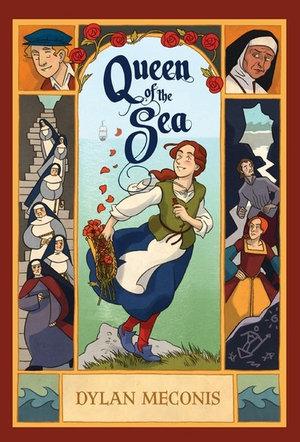 Queen of the Sea by Dylan Meconis is a graphic novel which tells the story of Margaret, a young orphan who is raised by a small band of Elysian nuns on a remote island off the coast of the fictional kingdom of Albion. Margaret loves her island, but wonders about her parents and how she came to be there. Then Margaret's idyllic existence is tested when regal Eleanor, former queen of Albion, arrives. As Margaret and Eleanor grow closer, and Margaret learns more about her past and the vengeful purpose of the island, she is faced with a difficult decision between duty and friendship.
From the first page I was enchanted by Margaret and her world. Not a big reader of graphic novels, I expected to be underwhelmed by the prose and with a small understanding of art, unmoved by the pictures. I was neither. It is obvious that much work has gone into this book, not just in the illustrations which are beautifully painted in soft greys, reds and greens but also into the prose. The voice and tone of the story is warm and touching and the illustrations evoke emotion and add depth to the prose, both working together beautifully to create a magical story.
Simple and entertaining explanations of Margaret's world are peppered throughout the story and cleverly woven in. I especially enjoyed the descriptions of chess, a nun's life and sainthood. Meconis does a fabulous job of simplifying complex political situations and illustrating emotional concepts. I admired, for example, how she was able to explain why a person may appear terse and mean when they are afraid and lonely.
This book has been called an alternate history as it is loosely based on the exile of Queen Elizabeth 1 of Britain by her sister Queen Mary — Meconis has imagined Queen Elizabeth's plight through the character of Eleanor. I love this idea because it has allowed Meconis to include all the good bits of this fascinating story whilst reimagining and omitting the boring or unsavoury bits.
Perfect for children aged 8-10, I can imagine a young girl pressing this gorgeous book to her chest and dreaming about queens, secret princesses, saints and the sea. This is the type of book a child might cherish and adore, and keep into adulthood. I can imagine them reading it to their own children one day, taking it down from the shelf with reverence. It's the perfect story to read with a child, lingering over the drawings and enjoying the warmth of the prose.
Any child (or adult) interested in British history, folklore, illustrations and a great story will enjoy this book. And since the ending was left with some questions unanswered, I really hope there will be sequel. An enchanting tale of loyalty, secrets, friendship and duty.
Reviewed by Renee Mihulka