Peter Millet (text) and Myles Lawford (illustrator), Power Up! (The Invincibles #1), Scholastic New Zealand, July 2019, 144 pp., RRP $12.99 (pbk), ISBN 9781775435990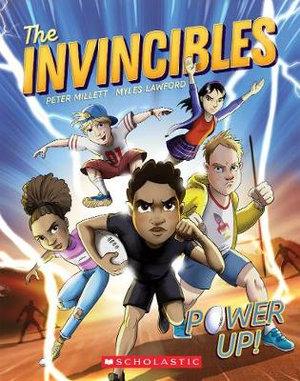 The Invincibles is a new series featuring ever-perennial super-heroes. In this case, the heroes are kids, brought together for a rugby team try-out, who receive their powers when they're simultaneously struck by lightning.
Three boys and two girls are on the field when the lightning strikes and the group become aware of their powers after nearby sheep jump the goalposts. They have the usual kind of powers, super speed, super hearing and long vision (one boy can see that he kicked a footy to the moon). The only X factor to their super-powers is they're concentrated in 80-minute bursts; providing a handy 'ticking clock' for the heroes to save the day.
Aimed at reluctant readers, the book is highly illustrated in black and white and includes some bold words and speech bubbles. The book is published by the New Zealand arm of Scholastic and there are some cultural references and language that Australian children may find unfamiliar. That said, it's perfectly possible to enjoy this read without being aware of New Zealand culture.
Reviewed by Heather Gallagher