Paul Jennings (text) and Geoff Kelly (illustrator), A Different Land, Allen and Unwin, September 2019, 128 pp., RRP $14.99 (pbk), ISBN 9781760528720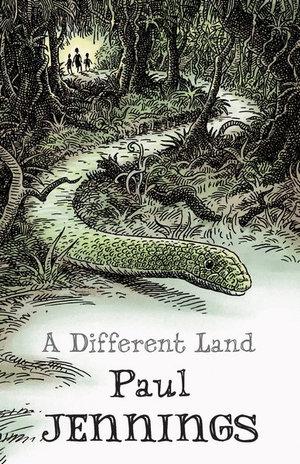 A Different Land is the third in a trio of companion books (A Different Dog, A Different Boy) by master storyteller and Round the Twist creator Paul Jennings.
Loosely based on Paul's own experiences of being a 'ten pound pom', it tells the story of three new arrivals to Australia: Christopher, his mother Pat and Anton his little adopted brother. The trio are thrown together by grief and circumstance to travel twelve thousand miles from England on the promise of a job for Mum and a fresh start in a new land. But when they arrive, the pub has a dirt floor, the owner is as rough as guts and the toilets well… there are no words. To make matters worse, the forest is full of snakes and feral pigs and Christopher doesn't trust the landlord called Crayfish. But while trying to prove that the landlord is up to no good, Christopher discovers there are far more dangers in the Australian wilderness than he – or even Crayfish – bargained for.
What this story lacks in length it makes up for in vivid descriptions, likeable characters and memorable moments. Its short word count, fast paced storyline and generous black and white illustrations also make it an excellent choice for reluctant readers in upper primary and lower secondary levels.
Recommended for readers aged 10-14.
Reviewed by Deborah Kelly