Jacqueline Harvey, Out of Sight (Kensy and Max #4), Penguin Random House Australia, September 2019, 341 pp., RRP $16.99 (pbk), ISBN 9780143791928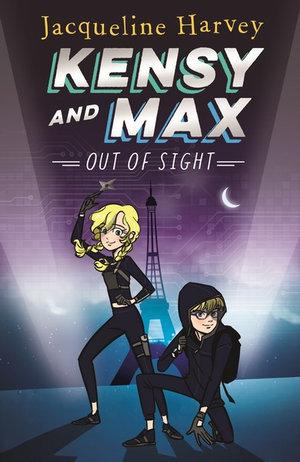 KENSY AND MAX – Out of Sight is the fourth book in this new series of books by Jacqueline Harvey which follows the success of the Alice-Miranda and Clementine Rose series.
Kensy and Max are twins born into a family of spies and secrets, mysteries and mishaps. So, while they are all looking forward to settling into life in London, there are numerous pressures on Kensy and Max to focus on study and training. The twins are preparing for the mandatory skills review which they must pass to continue their involvement in the secret agency Pathos. But they are also involved in the school play which demands regular attendance at rehearsals; three journalists have gone missing; and Kensy has become a thief.
There are a lot of characters in this book – right from the very start – so I was pleased for the list of the cast of characters at the front. The children, their family and friends have a strong sense of respect and care for each other. These relationships engender an ability to resolve problems through teamwork within the supportive structure of extended family. It is a strong basis upon which the outcome of numerous encounters relies.
It was also refreshing to have main characters Kensy and Max focused on being the best they could be through study, reading and investigative projects – often self-initiated. So many books for young readers use the analogy of sport to demonstrate achievement whereas Harvey has cleverly created a very inclusive storyline for children of all interests. This book is a lovely mix of adventures for those keen on physical pursuits and scholarship for academic students.
I was a little disappointed in the slow progression of the story. The lengthy chapters and repetitive scenarios made it a rather laboured read; that is until the last third of the book where there was a definite shift in the writing. The use of shorter chapters and crisper language in these final chapters delivered a vital energy to the action and drama of the situation in which the twins found themselves, a very engaging journey through perilous adventures. Fans of Jacqueline Harvey's previous books are sure to enjoy this newest adventure series and can look forward to many more escapades in the out-of-the-ordinary lives of Kensy and Max.
Reviewed by Jennifer Mors