Nicki Greenberg, Miss Kraken, Allen and Unwin, September 2019, 32 pp., RRP $24.99 (hbk), ISBN 9781760637743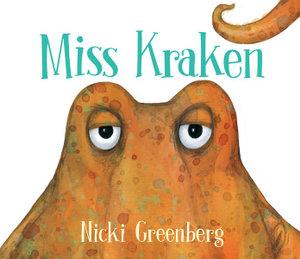 'The minute we saw Miss Kraken, we all knew it was going to be a bad year.'
Miss Kraken is not the sort of teacher this class of naughty kids was hoping for. She's cranky. She's strict. She's downright weird. When the class takes a trip to the local aquarium, Miss Kraken warns everyone to be on their very best behaviour. But soon enough, kids are running and shouting, wrestling sea creatures, having water fights and flying paper planes. Strangely, Miss Kraken doesn't try to stop them. She doesn't even tell them off. Why? Because Miss Kraken is nowhere to be seen.
Dynamic and humorous illustrations combine with photographs from Melbourne's SEA LIFE Aquarium to great effect. Children will delight in pointing out the antics of naughty children (spot the nose picker and the bare bottom!) throughout the book and many a stressed-out teacher will relate to the rather likeable Miss Kraken.
A hilarious and quirky tale of bad behaviour and unexpected consequences that is sure to be a hit with primary school teachers and students alike.
Highly recommended for ages 4-7.
Reviewed by Deborah Kelly