Sibéal Pounder (text), Jason Cockcroft (illustrator), On the Rocks (Bad Mermaids #2), Bloomsbury Children's Publishing, September 2018, 272pp $12.99 (pbk), ISBN 9781408877142.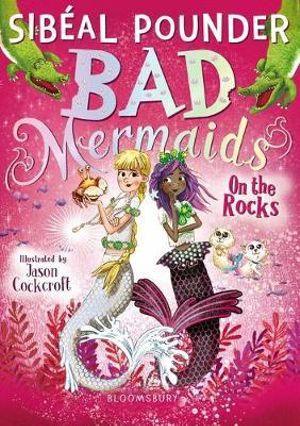 Bad Mermaids: On the Rocks, the second instalment of Sibéal Pounder's new series, starts where the first book ended: mermaids Beattie, Mimi and Zelda are trapped on a sunken ship, the Merry Mary, heading for the infamous Crocodile Kingdom. Meanwhile, land-side ice cream seller and gadget queen, Paris Silkensocks, has uncovered a plan to destroy the mermaid world and must somehow warn the trio … before it's too late.
Pitched to eight to ten-year-olds, Bad Mermaids: On the Rocks is brimming with mix-ups and hijinks, magic, mystery and fashion. Illustrator Jason Cockcroft's pencil sketches, newspaper cuttings, advertisements and maps are great for world-building, adding layers of dimension to this underwater metropolis.
There are plenty of clever elements to keep tweens amused — clam cars, clam shell headphones, crabagrams, lipstick wearing pufferfish and seaweed papers, to name just a few. At times, the high level of detail seems to detract from the core of what is essentially a strong, female-led tale (yes, it's tempting to say 'tail' in true mermaid spirit). In this fishy fantasy driven by fun and friendship, the girls manage to save the day — a powerful, positive message for young readers.
Reviewed by Maura Pierlot