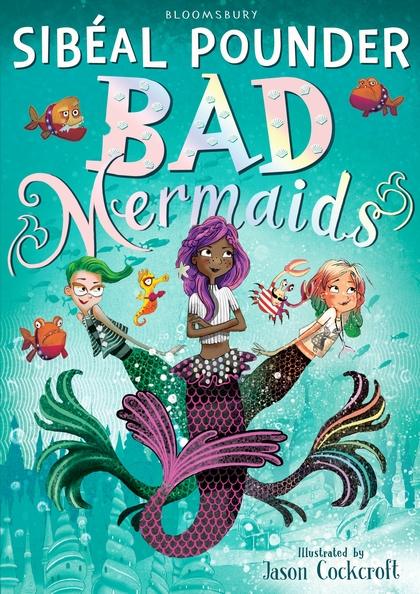 Sibeal Pounder (text),  Jason Cockcroft (illus.), Bad Mermaids,  Bloomsbury Australia, 1 August 2017, 262pp., $11.99 (pbk),  ISBN 9781408877128
Beattie, Mimi and Zelda are mermaids – with a difference.  They have legs, but only for one year.  It is a regular occurrence in this mermaid world, introduced to help young mermaids gain an understanding of life outside the sea.  However, right in the midst of their fabulous summer holiday – and well before they are due to return to the watery depths of home – the mermaids are summoned back to Hidden Lagoon.  Something has gone terribly wrong, and the mermaid-girls are the only ones who can solve it.
Many young readers will know Pounder's books.  She is the author of the successful Witch Wars series and an experienced hand when it comes to juvenile fiction.  There is an expectation therefore that Bad Mermaids will be in the same league – something out of the ordinary.  However, sadly, I struggled to read to the end of this book with its multitude of complicated characters, many of whom seem to appear and disappear unannounced, and at times, out-of-sequence.  But perhaps the story line just didn't hold my interest.
There are some fun moments and amusing elements especially with Pounder's use of aquatic puns to name characters and the places they frequent but, for me, it all seemed too contrived and unnecessarily complicated.
However, the black and white drawings of Jason Cockcroft make a real contribution to the story, bringing characters to life and crazy situations directly onto the page.  These are sure to enchant young readers – but maybe not rescue it entirely.
I may have just missed the point – I am certainly not within the target audience group – and mermaids have always held a special place in the imagination of the young and the not-so-young so I feel sure there are numerous 7 to 9 year old children who will enjoy the friendships and adventures of this underwater trio, their curious companions and the fishy foe that lurk beneath the surface.
An associated Activity Pack can be found on the Bloomsbury Australia website.
Reviewed by Jennifer Mors