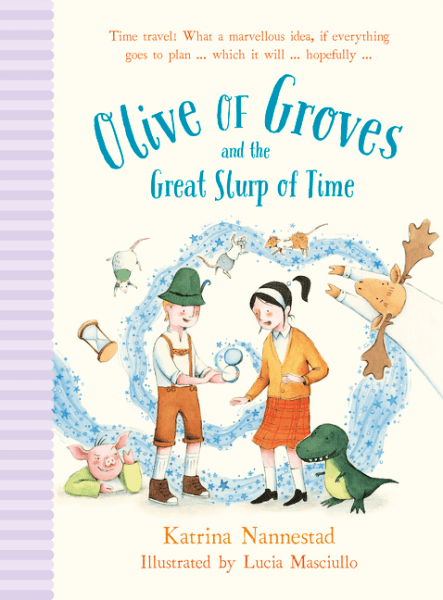 Katrina Nannestad (text), Lucia Masciullo (illus),  Olive of Groves and the Great Slurp of Time (Olive of Groves #2),  ABC Books/HarperCollins Australia,  1 May 2016, 288pp.,  $19.99 (hbk),   ISBN 9780733333705
Second book in this exciting series, Olive of Groves and the Great Slurp of Time, took me back to my childhood love of The Folk of the Faraway Tree series. Here lies a modern day Enid Blyton classic brimming with quirky and charming language, eccentric characters and wonderfully imaginative adventures to far off lands (and eras).
Although there are some quite serious moments in which sweet school captain Olive desperately tries not only to 'fit in' but also to manage the mayhem that exists at Mrs Groves' Boarding School for Naughty Boys, Talking Animals and Circus Performers (and Time Travellers), this book is delightfully entertaining. I seriously chuckled and snorted my way right through. But the beauty of this book is that it has the ability to enliven all your emotions to every extreme, from utter rage to absolute hysterics and deep sorrow to complete satisfaction.
Our main character is challenged at every turn. An innocent trip with fellow students (most including her animal pals) back to prehistoric and other historic times, led by German time traveller from 1857, Basil Heffenhuffenheimer, almost ends up being the bane of her existence. With Pigg Mackenzie; The Wicked Pig of Evil Intent, hot on her trail to cause impending doom, and the disastrous effects of the time slurp sucking legends from the past into the present, Olive comes close to an epic fall from grace. Fortunately, she has friendship, smarts, and a bit of luck on her side and all is restored to the 'normal' kind of mayhem at school.
Author Katrina Nannestad skillfully intertwines full engagement with her audience, addressing herself and her readers in amongst the craziness of the narrative. She introduces us to her flowing (and growing) list of story characters, whom are all so immediately lovable (except for the pig). I love that the narrative is so descriptive that it literally takes your breath away, as well as ensnaring your senses with scrumptious tastings, icky chills and cringe-worthy moments. The illustrations by Lucia Masciullo are simply delightful; visually and uncannily accurate in relation to the text.
Olive of Groves and the Great Slurp of Time is a deliciously captivating and recommended read for independent readers from age nine. Anyone, like me, loving imaginative tales with a sense of absurdity, humour and the impossible will want to get their hands on all the books in this enchanting series. Book #3, Olives of Groves and the Right Royal Romp! is due for Christmas 2016.
Reviewed by Romi Sharp