RA Spratt, Near Extinction (The Peski Kids #4), Puffin Books, January 2020, 272 pp., RRP $16.99 (pbk), ISBN 9780143796367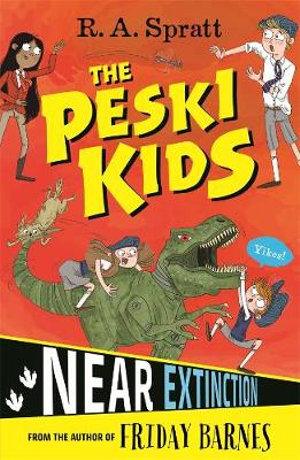 My eldest child scooped up this book as soon as she saw it, read it non-stop and then handed it to her sister. They both loved it, and (when I finally got my hands on it!) so did I. The author's dry wit had me laughing out loud over and over. In these politically correct times when poking fun at anything is frowned upon for fear of causing offence, it's refreshing to read a kid's book that pays out on everyone and reflects the way kids call things as they see them. Everything is up for ridicule, from restrictive modern diets and coffee snobs to immigration laws and the way society is too scared to call out poor behaviour by people considered disadvantaged. Once you stop laughing, there's heaps of fodder for thoughtful conversations with young readers and there's nothing that's actually offensive.
The earlier books in this series have revolved around seemingly inane events in the quiet country town of Currawong, where the Peski kids have gone into hiding after learning their dowdy mother was actually a super spy. And she had been captured. Since moving to Currawong, the kids have been involved in a cockroach race, mud run and daffodil festival. In this story, the Peski kids are off on an equally lame-sounding excursion to the Gulargambone Dinosaur Park – a field in the middle of nowhere with anatomically incorrect models of dinosaurs. But there's a twist, of course and lame turns dangerous! And there's a fabulous, unexpected ending. I can't wait to read what happens next! 
As an adult I find kid's chapter books, particularly series, can sometimes be difficult to get through. But I'm finding this series quite fast-paced and disappointed to hear the next book, #5, may be the final for the series.
Near Extinction is the fourth book in the new Peski Kids series by Australian author RA Spratt. Book 5 The Final Mission is due out in August 2020. 
Reviewed by Carissa Mason