Ransom Riggs, The Conference of the Birds (Miss Peregrine's Peculiar Children #5), Penguin Books, January 2020, 336 pp., RRP $24.99 (pbk), ISBN 9780241320907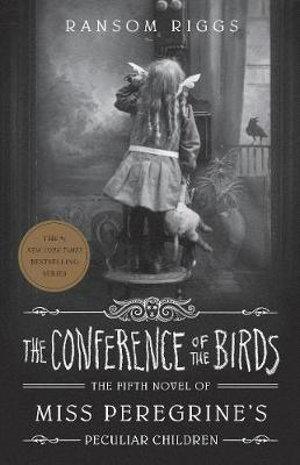 The Conference of the Birds by Ransom Riggs is the fifth instalment in the Miss Peregrine's Peculiar Children series. Continuing directly from where book four ends, The Conference of the Birds plunges straight into action with Jacob Portman helping newly discovered peculiar, Noor Pradesh, escape her potential captors. The American peculiar clans have dangerous leaders and Leo, the most dangerous of all, is after Noor. 
Having severed ties with his previous life Jacob finally feels at home in the peculiar world, and Jacob would like nothing more than to relax with his adopted peculiar family. However, the tension throughout Devil's Acre and the undercurrent of rebellion against the order of the Ymbrynes ensures there is no rest for Jacob. Add that to an impending war between the American clans, a prison break by the wights, and an ancient prophecy about how Noor is one of seven who must save peculiardom from an impending apocalypse, Jacob has a lot to deal with.
Noor and Jacob are the focus for this book, and it is in this fifth instalment where we see Jacob come into his own as a respected peculiar. Not just revered for his previous role in defeating the villain, Caul, we witness those around Jacob redefine their relationships with him due to his maturity and sense of self. There is an acceptance of the complexities of friendships and changing relationships.
As with the other books in this series, Riggs incorporates found and borrowed old photographic images to inspire a myriad of obscure peculiars. Packed with action, adventure and quirky characters, The Conference of the Birds is definitely my favourite of the Miss Peregrine's Peculiar Children series so far.
Reviewed by Fiona Miller-Stevens